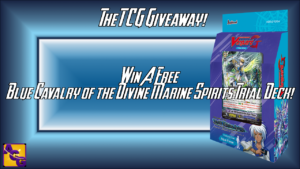 I am proud to present the first contest in Awesome Card Games history! I'm giving away one free G Trial Deck 4: Blue Cavalry of the Divine Marine Spirits to one lucky winner. That's right one lucky person will get his or her hands on the upcoming trial deck. Aqua Force has surpassed it limits in the next generation. The wind will guide the Aqua Force to victory! Now you can join their naval assault to fight alongside Magnum Assault and Thavas.
How To Enter
To enter you need to write a comment below about why you like the Aqua Force clan in 30 words or more. Be sure to post your comment by using your Google Plus account. Somegamerdude from SomeVanguardBlog will pick player with the best written statement about the Aqua Force. The contest ends on April 10th.
The Winner
The winner will be announced on April 16th, 2015. The announcement will be posted on this blog so be sure to look for it on April 16th. The winner has three days to give his  or her address to me in a message for I can order the trial deck to arrive at his or her home. If I do not receive your address within three days after the announcement, then a new winner to be chosen and announced.
Eligibility 
This contest is limited to participants from the United States of America. You may only enter the contest once.