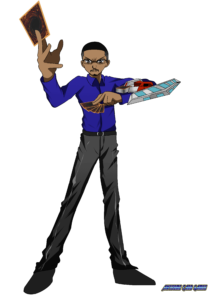 I am Franklin, the owner and creator of Awesome Card Games. Trading Card Games is one of my favorite hobbies. Awesome Card Games features deck profiles, reviews of cards, and news on upcoming booster sets of our favorite games. I launched the original blog for Awesome Card Games on Blogger in 2013. Then, I transitioned my blog to a new domain in 2018.
My Favorite Trading Card Games:
I started playing trading card games when I was in middle school. My first game was the original Dragon Ball Z TCG by Score. I play Cardfight!! Vanguard, Dragon Ball Z TCG/CCG, Magic the Gathering, and Yu-Gi-Oh! I also collect cards from MegaMan NT Warrior TCG and UFS. You may say I am a connoisseur and collector of many card games.
I participate in local tournaments at my local store. We have fantastic tournaments with epic matches. Some of our matches have lasted for an hour! I have placed in the top three in all of our Cardfight!! Vanguard tournaments.
Awesome Card Games on YouTube:
I also started a YouTube channel to spread my passion for trading card games. My videos features booster sets, starter decks, deck profiles, and games with players at my local store. Awesome Card Games's primary game is Cardfight!! Vanguard, and I post new games every month on the channel. You will also find videos of Dragon Ball, Magic the Gathering, MegaMan, and Yu-Gi-Oh!
Trading card games are my passion. I connect with friends and meet new players. It is rewarding to build a community of players. I enjoy playing games with my friends at my local shop. You can watch our games at the Official Awesome Card Games YouTube channel.
Subscribe to Awesome Card Games on YouTube!
https://www.youtube.com/c/AwesomeCardGames
Business Inquires:
For business inquires, please contact me via email.
awesomecardgames5@gmail.com