Elemental HERO is an archetype of warriors from Yu-Gi-Oh!. Superheroes and fusion are the themes of Elemental HERO. Every monster in the archetype is a superhero. Their supportive cards have names for the theme such as HERO Signal to the Bat-Signal.
Strategy:
Elemental Heroes use Polymerization and similar cards for Fusion Summons. The most powerful Elemental Heroes are fusion monsters. They have powerful effects with many advantages.
Due to Elemental Heroes' fusion monsters, a deck needs to play cards for fusion summons. Polymerization and Super Polymerization can fusion summon Elemental Heroes from the Extra Deck. These cards are essential spells for the archetype.
Fusions: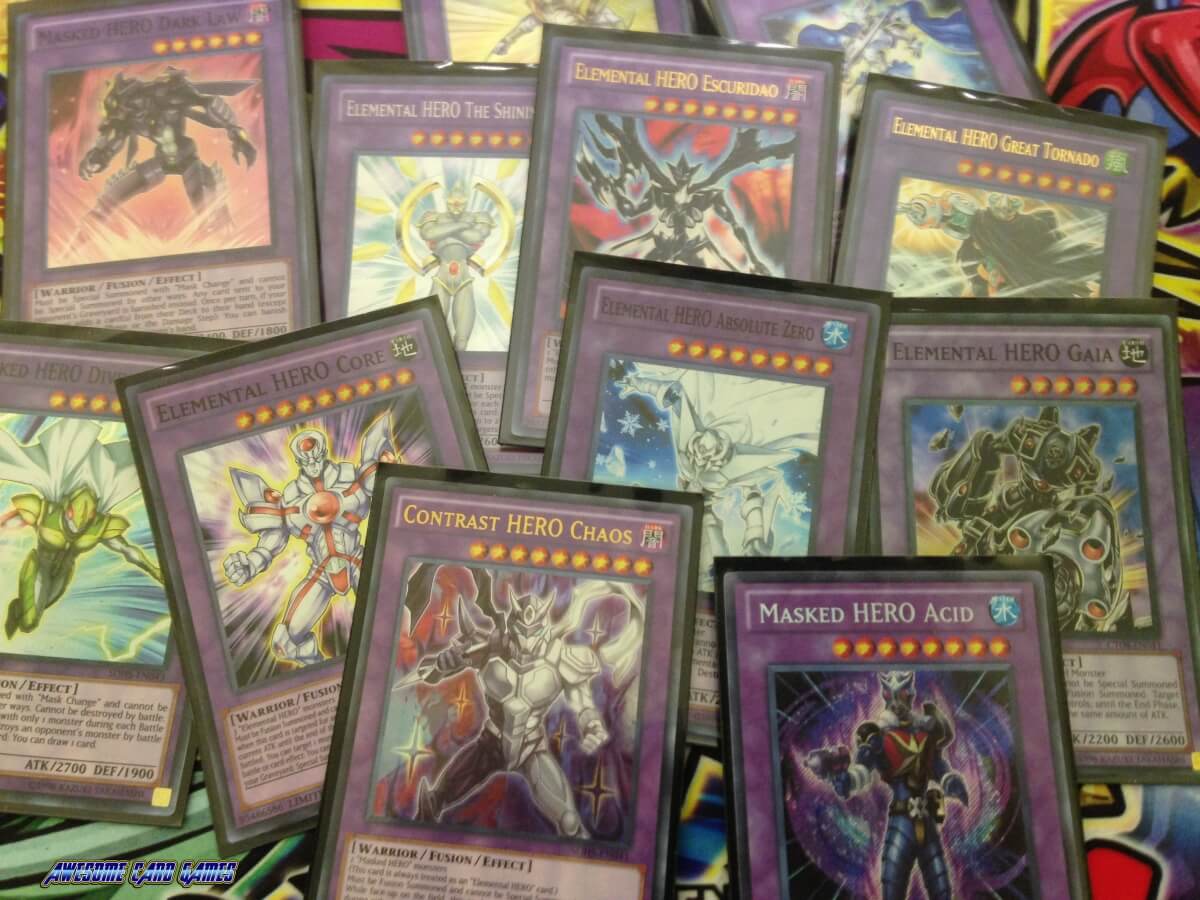 Fusion Monsters are the keys to victory for Elemental Heroes. These monsters have powerful effects, and there are monsters for most situations. You can create a variety of strategies for a deck of Elemental Heroes.
You can create a control deck. Elemental HERO Sunrise provides control and destroys the opponent's cards. Elemental HERO Absolute Zero destroys all of the opponent's monster after he leaves the filed under any circumstance.
Effect Monsters:
Elemental HERO relies on its effect monsters in the deck. These cards help run the deck's strategy. These effect monsters add resources such as monsters and Polymerization to your hand.
For example, Elemental HERO Stratos is one of the best cards in the archetype. Elemental HERO Stratos special summons a HERO from the deck or Elemental HERO Stratos destroys the opponent's spells and traps. You gain one of two advantages.
List of Elemental HERO Monsters:
| Name | Card Type | Type | Level | Attribute |
| --- | --- | --- | --- | --- |
| Elemental HERO Avian | Normal Monster | Warrior | 3 | Wind |
| Elemental HERO Blazeman | Effect Monster | Warrior | 4 | Fire |
| Elemental HERO Burstinatrix | Normal Monster | Warrior | 3 | Fire |
| Elemental HERO Clayman | Normal Monster | Warrior | 4 | Earth |
| Elemental HERO Flash | Effect Monster | Warrior | 5 | Light |
| Elemental HERO Heat | Effect Monster | Warrior | 4 | Fire |
| Elemental HERO Honest Neos | Effect Monster | Warrior | 7 | Light |
| Elemental HERO Liquid Soldier | Effect Monster | Warrior | 4 | Water |
| Elemental HERO Shadow Mist | Effect Monster | Warrior | 4 | Dark |
| Elemental HERO Solid Soldier | Effect Monster | Warrior | 4 | Earth |
| Elemental HERO Spirit of Neos | Effect Monster | Warrior | 7 | Light |
| Elemental HERO Stratos | Effect Monster | Warrior | 4 | Wind |
| Elemental HERO Woodsman | Effect Monster | Warrior | 4 | Earth |
Elemental HERO Monsters Fusion Monsters:
Name
Card Type
Fusion Material
Type
Level
Attribute
Elemental HERO Absolute Zero
Fusion Monster
1 "HERO" monster + 1 WATER monster
Warrior
8
Water
Elemental HERO Core
Fusion Monster
3 "Elemental HERO" monsters
Warrior
9
Earth
Elemental HERO Darkbright
Fusion Monster
Elemental HERO Sparkman
Elemental HERO Necroshade
Warrior
6
Dark
Elemental HERO Electrum
Fusion Monster
Elemental HERO Avian
Elemental HERO Burstinatrix
Elemental HERO Clayman
Elemental HERO Bubbleman
Warrior
10
Light
Elemental HERO Great Tornado
Fusion Monster
1 "Elemental HERO" monster + 1 WIND monster
Warrior
8
Wind
Elemental HERO Inferno
Fusion Monster
Elemental HERO Heat
Elemental HERO Lady Heat
Warrior
8
Fire
Elemental HERO Phoenix Enforcer
Fusion Monster
Elemental HERO Avian
Elemental HERO Burstinatrix
Warrior
6
Fire
Elemental HERO Shining Flare Wingman
Fusion Monster
Elemental HERO Flame Wingman
Elemental HERO Sparkman
Warrior
8
Light
Elemental HERO Steam Healer
Fusion Monster
Elemental HERO Burstinatrix
Elemental HERO Bubbleman
Warrior
5
Water
Elemental HERO Terra Firma
Fusion Monster
Elemental HERO Ocean
Elemental HERO Woodsman
Warrior
8
Earth
Elemental HERO Wildedge
Fusion Monster
Elemental HERO Wildheart
Elemental HERO Bladedge
Warrior
8
Earth
List of Spells:
| Name | Type |
| --- | --- |
| A Hero Lives | Normal Spell Card |
| E - Emergency Call | Normal Spell Card |
| Generation Next | Quick-Play Spell Card |
| Hero Flash!! | Normal Spell Card |
| Hero Mask | Normal Spell Card |
| Skyscraper | Field Spell Card |
| Skydive Scorcher | Normal Spell Card |
List of Traps:
| Name | Card Type |
| --- | --- |
| Change of Hero - Reflector Ray | Normal Trap |
| Hero Barrier | Normal Trap |
| Hero Counterattack | Normal Trap |
| Hero Signal | Normal Trap |
| Mirror Gate | Normal Trap |