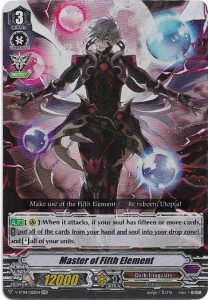 Make use of the Fifth Element…… Be reborn, Utopia!

[AUTO](VC):When it attacks, if your soul has fifteen or more cards , COST [put all of the cards from your hand and soul into your drop zone], and [Stand] all of your units.
Master of Fifth Element is a vampire from the Dark Zone. He has mastered the elements of the universe. His artwork depicts him with elements in orbs floating around him. Master of Fifth Element is also Eru Nakagami's avatar in Cardfight!! Vanguard V. Eru Nakagami holds test tubes with different colors to represent his avatar's five elements.
Skill
Master of Fifth Element's skill stands all of your units when he attacks your opponent's vanguard. Thus, a maximum of six units stand for three more battles in your favor! This skill puts a lot of pressure on your opponent. He or she must stop Master of Fifth Element in two battles. On top of that, you also have an additional set of drive checks.
Furthermore, this skill requires 15 cards in your soul. You must also discard all cards in your hand and soul blast all cards from your soul to activate the skill. The cost is very heavy to balance the card. It can be worth it for a final push to the win game. He gives you one last chance to win if you are in a tight spot.
Timing Is Everything!
Master of Fifth Element requires perfect timing to defeat your opponent. If the opponent has very few cards in his or her hand, then play Master of Fifth Element to the seal deal. He should be your second and final vanguard of the game. You are surrendering all of your resources for one chance to win the game. It is all or nothing at this point. Your chances of surviving your opponent's next turn are very slim to none.
Soul Charge!
You need to soul charge cards every turn to set up Master of Fifth Element. His skill is very demanding and needs a lot of fuel. The majority of your rear-guards need to have skills to send cards to the soul. Also, a vanguard with the ability to soul charge also helps the deck. This strategy ensures Master of Fifth Element can activate his skill during battle.
Play these cards with Master of Fifth Element in the standard format!
Premium Format
Unfortunately, Master of Fifth Element does not fit in the premium format. His skill is an ineffective ability in this league. A G-Unit is a far superior option than Master of Fifth Element's skill. You would gain a larger advantage with a G-Unit. It has triple drive and strong skills to enable a better offense.
Card Rating
Overall, Master of Fifth Element is a good card for a budget deck in the standard format. His skill can win some games. Your opponent will not always be able to block all of your attacks during your final turn. Master of Fifth Element is a master of giving you a second chance in battle. All of your units stand for one last battle.
Premium Format:
(1 / 5)
Standard Format:
(3.5 / 5)