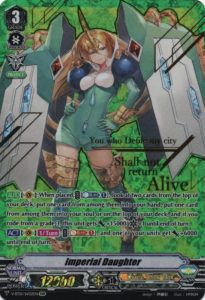 You who Defile my city
Shall not return Alive

[AUTO](VC):When placed, COST [Counter Blast (1)], look at two cards from the top of your deck, put one card from among them into your hand, put one card from among them into your soul or on the top of your deck, and if you rode from a grade 3, this unit gets [Power]+15000/[Critical]+1 until end of turn.
[ACT](VC)[1/Turn]:COST [Soul Blast (1)], and one of your units gets [Power]+6000 until end of turn.
I have not played decks of a few particular clans. Oracle Think Tank is one of those clans. I never had any interest in playing them. The art, characters, and skills did not appeal to me. My opinion has changed under the new game. Imperial Daughter's art, skills, and character are fantastic. She is a serious character with a lot of power. She also has the Protect gift for the perfect defense.
First Ability:
Imperial Daughter's first skill draws a card and puts the top card of your deck into the soul or on top of the deck. The extra card helps build your resources. You also can a Protect gift after riding her. Then, she manipulates the deck. I would place a trigger on top of the deck and any other card into the soul. I could also play mind games by placing a normal unite on top of the deck. Then, my opponent may use a perfect guard because he or she believes I will check a trigger.
Play these cards with Imperial Daughter in the standard format!
You have the incentive to ride her multiple times to build your resources. You will draw an additional card and get a Protect gift. I will always ride her on the vanguard circle every time I get a chance. She gives you a huge advantage. Protect is a great gift to have in your possession. Sometimes you will have an unlucky game, and will not draw any perfect guards from the deck. Protect corrects the bad luck by becoming the perfect guard.
Second Ability:
Finally, Imperial Daughter's second skill soul blasts a single card to give 6,000 power to one of your units. You may select Imperial Daughter to get the 6,000 power. You can also build columns to reach magic numbers. Promise Daughter's power can rise to 21,000 with her skill and Imperial Daughter's skill. A booster with 8,000 power will boost Promise Daughter to 29,000 power.
Card Rating:
Overall, Imperial Daughter is a great card. She generates a lot of advantage by drawing extra cards and manipulating your deck. Her second ride will put a lot of pressure on your opponent. Her power rises to 26,000 power when she rides on a grade 3 vanguard. Her second skill is useful for adding more power to units. I am very excited to build my first Oracle Think Tank with Imperial Daughter as my vanguard.
Standard Format:
(5 / 5)