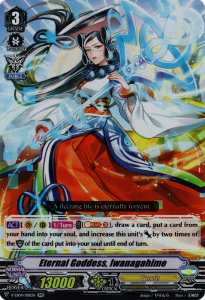 A fleeting life is eternally fervent.

[ACT](VC/RC)1/Turn:COST [Soul Blast (3)], draw a card, put a card from your hand into your soul, and increase this unit's [Power] by two times of the [Shield] of the card put into your soul until end of turn.
Eternal Goddess, Iwanagahime has been recreated for the standard format. She was originally a card with Limit Break. She now has a Force marker, new art, and a new skill! Eternal Goddess, Iwanagahime uses the soul to gain a power skill. You have never seen a Soul Blast like hers!
Eternal Goddess, Iwanagahime skill raises her power by times of the shield of a card put into your soul. Therefore, her power rises to 63,000 with a heal trigger placed into the soul and a Force marker. This skill applies a lot of pressure in the early game. Your opponent is unlikely to block the attack without a perfect guard. Checking two critical triggers can seal an early victory for you!
Play these cards with Eternal Goddess, Iwanagahime!
Battle Maiden, Shitateruhime (V Series)
Swift Runner of the Clear Skies, Achilles
Eternal Goddess, Iwanagahime's skill requires a lot of cards for her Soul Blast. Therefore, you need to maintain cards in your soul to pay the heavy cost. You can consistently present a major threat every turn. Play cards such as Battle Maiden, Shitateruhime to reduce the skill's cost. You will consistently play the skill every turn.
Combo 1: Conserve the soul.
Activate Battle Maiden, Shitateruhime's skill and reduce Eternal Goddess, Iwanagahim's Soul Blast by two cards.
Activate Eternal Goddess, Iwanagahim's skill and you are only required to Soul Blast one card.
However, Eternal Goddess, Iwanagahime is not an unstoppable card. Perfect Guards shut down her offense. I would have liked for her to have an additional skill. A skill with restrictions on guarding would be welcomed. An ability to soul charge would also make her a better card.
Overall, I like Eternal Goddess, Iwanagahime's unique skill. She pressures your opponent in the early game and late game. Her skill provides a lot of pressure on your opponent. She hits hard and can knockout your opponent if you can check a double critical trigger! Furthermore, she has a good supporting cast around her. Build the soul and unleash Eternal Goddess, Iwanagahime's Soul Blast!
Card Rating:
(4 / 5)