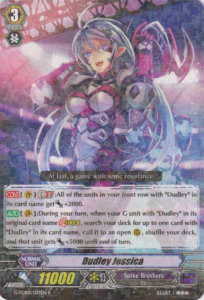 After a long time, a game with some resistance.

[CONT](VC) Generation Break 2:All of the units with "Dudley" in its card name in your front row get [Power]+2000.
[AUTO](VC):During your turn, when your G unit with "Dudley" in its original card name Stride, search your deck for up to one card with "Dudley" in its card name, call it to an open (RC), shuffle your deck, and that unit gets [Power]+5000 until end of turn.
Dudley Jessica is the first female grade 3 for Spike Brothers! She is a superstar athlete on the Dudley football team. Jessica is known for being talented at playing multiple positions on defense, offense and special teams. The playbook is wide open for her. She will do whatever it takes to win games. She wears a helmet during games and reveals her beautiful face during post-game interviews. Her skills are exclusive for Dudley players.
Dudley Jessica's Generation Break gives a 2,000 power bonus to your Dudley teammates in the front row. Her power becomes strong enough to hit Cross Rides without needing a booster to give her the opportunity. Your grade 2 lineup in your deck only needs Dudleys for Jessica's Generation Break to be consistent. Boost your units in the front row with Dudley Phantom. Dudley Phantom's boost gives 10K power to your Dudley units. However, her skill is a bit underwhelming for a Generation Break 2 skill. You do not gain a large advantage from her skill. It is just a small power boost to enable your rear-guards to hit your opponent's vanguard.
Jessica calls fresh substitutions from the bench with her Stride bonus skill. Her newly called teammates gain 5,000 power until the end of your turn. Her Stride bonus skill works well with Great Warrior, Dudley Geronimo. Both of their abilities can give 5,000 power to one rear-guard. You can also give one unit the power bonus from Geronimo's skill and another unit can get the power bonus from Jessica's skill.
Finally, Dudleys is one of oddest archetypes in Cardfight!! Vanguard. The archetype has many cards, but does not have a complete set for a pure deck. I do not understand why Bushiroad made Jessica, and failed to make enough support for Dudleys. Dudleys do not have a perfect guard and triggers for the archetype. You are forced to add random grade one cards and triggers in your deck. It should not disrupt your strategy too much.
Overall, Dudley Jessica is worthy of second team honors. This girl got game! She will only become a better vanguard in time. Dudleys need a few more cards to become a complete deck of all-star talent, and then Jessica will finally reach her full potential. Her stride skill has potential to deal major damage with better support. I am glad to see Bushiroad finally making a female leader for Spike Brothers. Hopefully they will continue to make female grade 3 cards for Spike Brothers in future sets.
Card Rating: 3 out of 5