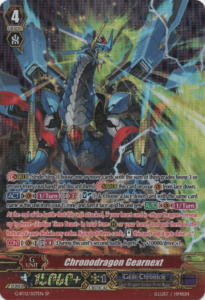 [Stride]-Stride Step-[Choose one or more cards with the sum of their grades being 3 or greater from your hand, and discard them] Stride this card on your (VC) from face down.
[ACT](VC)[1/Turn] Generation Break 2:[Soul Blast (1) & Choose a face down card from your G zone with the same card name as this unit, and turn it face up] This unit gets "[AUTO](VC)[1/Turn]:At the end of the battle that this unit attacked, if your heart card is a Gear Dragon, reveal up to three Zodiac Time Beast in total from (RC) or your hand, and put them on the bottom of your deck in any order. If you put three cards, [Stand] this unit, and it gets drive-2."
[CONT](VC) Generation Break 4:During this unit's second battle, it gets [Power]+10000/drive+1.
Chronodragon Gearnext is the second evolution of Chronojet Dragon's future. Our hero of Gear Chronicle continues to exceed his limits. Chornojet Dragon has yet again reached the level of two attacks as the vanguard. He fights to the protect his future and the future of Cray. He needs this new power to battle the apostles of Gyze. Chronojet Dragon joins Blaster Blade, Maelstrom, and Altmile in their battle to save both worlds.
Chronodragon Gearnext's first skill sends two cards from your hand or rear-circles to the bottom of your deck and Chronodragon Gearnext stands. However, he loses two drive checks at the moment. Losing two drive checks is not a major problem if you checked triggers on your first attack. Two triggers will make his power 36,000 on the second attack before the single drive check. Your second attack could be powerful enough to seal your victory!
Furthermore, the key to Chronodragon Gearnext's skill is his Generation Break Four. He gains 10,000 power and an additional drive. He has Twin Drive for his second attack. You are getting back two of the three cards returned to your deck to stand Chronodragon Gearnext. If you checked any triggers during his first attack, then Chronodragon Gearnext's power will exceed 40,000. Only a few G-Guardians have strong enough shields to block the attack. Opponents will feel the pressure if they lack the proper defense to stop the second attack.
Finally, the card's language is very important. The skill states your heart card must be a Gear Dragon, and does not limit the skill to Zodiac Time Beast. This means you may use the original Chronojet Dragon as your heart. You may also play it in a deck without Time Leap or Zodiac Time Beast. Any deck with Chronojet Dragon can use it services.
Card Rating:
Overall, Chronodragon Gearnext is one of the best G-units for Chronojet Dragon. I would use it in a final turn to win a game. Its' skills can eliminate any opponent out of a tournament. Its' Generation Break puts the icing on the cake. It gains additional power and regains a drive to overcome your opponent's shield. A good boost increases its power beyond 40,000. Change your future with Chronodragon Gearnext.
Card Rating :
(5 / 5)