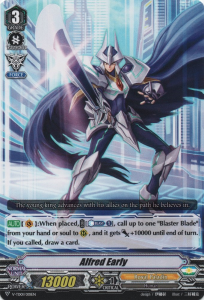 The young king advances with his allies on the path he believes in.

[AUTO](VC):When placed, COST [Counter Blast (1)], call up to one "Blaster Blade" from your hand or soul to (RC), and that unit gets [Power]+10000 until end of turn. If you called, draw a card.
Alfred Early is the perfect name for Alfred as a young king. Alfred is the king of the United Sanctuary. He and Blaster Blade are best friends, and he is one of the few people close to the legendary hero. This is just the beginning for Alfred's young journey as a king. He will grow to become a more powerful king and provide strong leadership to the Royal Paladins.
Alfred Early's skill superior calls Blaster Blade from your hand or soul, and Blaster Blade gains 10,000 power. Then, you may draw a card if you called Blaster Blade. I love activating this skill when I have Blaster Blade in my soul. This is the best play for this skill as I am able to call a rear-guard from the soul and draw a card.
Furthermore, Alfred Early has a lot of synergy with many cards to create big plays. The most obvious card is Blaster Blade. In addition to superior calling Blaster Blade, you may use Blaster Blade's skill to retire an opponent's rear-guard. This ability helps build resources. You gain a rear-guard from your soul, draw a card, and retire an opponent's unit in a single turn.
Combo: Alfred and his allies!
Ride Alfred Early and use his skill!
Superior call Blaster Blade to the same column as Little Sage, Marron, and draw one card!
Use Blaster Blade's skill to retire an opponent's rear-guard!
Next, use Little Sage, Marron's skill and draw one card!
In addition to supporting Blaster Blade, Alfred Early is a resourceful vanguard with Exculpate the Blaster. A deck with grade 4 cards may have problems with consistency. Bushiroad created Sage of Salvation, Benon to balance the deck. Benon searches for Alfred Early, and his skill is very useful when you do not have a grade 3 in your hand. You avoid being locked on grade 2, and continue playing Cardfight!! Vanguard normally.
Play these cards with Alfred Early!
Overall, Alfred Early is a decent vanguard from a trial deck. I am playing a full set in my Royal Paladin deck, and have won many games with him as my vanguard. Alfred Early will also lead your troops to victory. He has synergy with some of the best Royal Paladin rear-guards such as Blaster Blade. He is also a good vanguard to play with Exculpate the Blaster to avoid being grade locked.
Card Rating:
(4 / 5)