Two new trial decks are coming in February 2019! V-Trial Deck: 5 Misaki Tokura and V-Trial Deck 6 Naoki Ishida are the next trials for Cardfight!! Vanguard. Each trail deck has 50 cards, four RRR cards, and three Gift Markers. Four cards will be RRR with one card or Gift Marker randomly chosen to be the fourth RRR. These are the first two V-Trial decks to include four different RRR cards in every deck.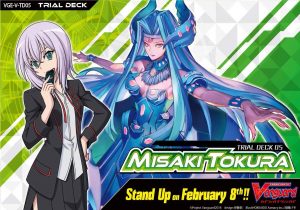 V-Trial Deck 5: Misaki Tokura includes new card for Oracle Think Tank, and introduces the Magus archetype. Hexagonal Magus, Rectangle Magus, and Cuore Magus have been confirmed. Oracle Think Tank is one of the strongest clans in the game because its abilities to draw cards gives it an advantage over many decks. The new Magus cards will provide further support. I am looking forward to updating my Oracle Think Tank deck.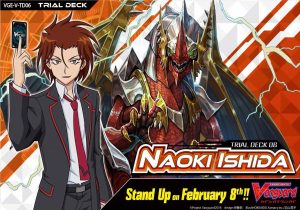 V-Trial Deck 6: Naoki Ishida introduces Narukami, and it is an Accel clan. The thunder dragons finally are rebooted for the new format. Great Composure Dragon, Recklessness Dragon, and Lizard Soldier Riki are three of the four RRR cards! I cannot wait to see the previews for Narukami. The clan has the potential to excel as an Accel clan.
Bushiroad's announcement on Twitter.
V-Trial Deck: 5 Misaki Tokura and V-Trial Deck 6: Naoki Ishida will be released on February 8th, 2019.