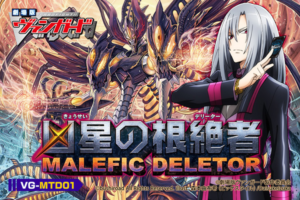 Bushiroad announced the very exciting  Movie Trial Deck 1: Malefic Deletor! The deck includes one RRR card and two R cards. Ibuki Kouji is the featured character on the box and the featured antagonist in the upcoming Cardfight!! Vanguard movies. The movie trial deck also features the Deleters. They are an archetype within the Link Joker clan.
Ibuki Kouji is Kai's and Miwa's childhood friend in the manga. He moved away when he was a child and returned with a powerful Link Joker deck featuring the Deleters. The Deleters use a new mechanic Banish Delete. Banish Delete sends the opponent's rear-guard to the drop zone in Locked position, thus removing it from the game.
Movie Trial Deck 1: Malefic Deletor will be released on September 24, 2014 in Japan!