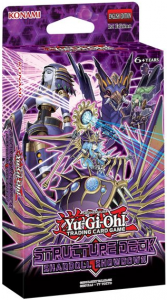 Konami has announced the new Structure Deck: Shaddoll Showdown for 2020. Structure Deck: Shaddoll Showdown is one of the largest structure decks that include 49 cards and 10 foil cards! You can create a beautiful deck with shiny cards. Seven foil cards are super rares, and three foil cards are ultra rares.  The MSRP for Structure Deck: Shaddoll Showdown is $9.99 per structure deck.
In addition, Shaddoll Showdown introduces new Shaddoll cards. One of the best archetypes in the game reaches a new level of power! The archetype was a group of only Dark monsters until now. They are receiving their first non-Dark Shaddoll monsters for your main deck. There is also a new El-Shaddoll Fusion Monster that is made with two different attributes! You have more options to play cards in your extra deck.
Features
49 Cards in total
39 Common Cards
7 Super Rare Cards
3 Ultra Rare Cards
1 Beginner's Guide
1 Deluxe Game Mat
Finally, Shadoll is one of the strongest and most popular archetypes in the recent era of Yu-Gi-Oh! The archetype has been a powerful deck since Duelist Alliance in 2014. Their Fusion Monsters restrict and punish players for special summoning monsters. They also have power Flip Effects to search for cards and create an advantage on the field. Shaddoll is one of the best decks because of this unique style. The new cards from Shaddoll Showdown are going to make a major impact in the meta.
I am looking forward to Structure Deck: Shaddoll Showdown. This is the first structure deck to feature the archetype. I will update this post when Konami reveals cards for the deck. Players can now a play a Shaddoll deck out of the box. I am expecting a lot of players to play the deck. Structure Deck: Shaddoll Showdown is set to be released in stores on February 14th, 2020.