With the recent release of Mega Man Zero/ZX Legacy Collection, in celebration, we decided to delve back through the archives, in a bid to uncover the best handheld Mega Man games of all time. What we found was a legendary timeline of classic titles.
The sheer quality and caliber of which made it difficult to distinguish between each entry using the metrics of pure merit alone.
So, strap yourself in tight. It's time to 'run & gun' our way through the history books—a rollercoaster ride. Right back to the heralded, glory days of gaming.
Here is our essential list of the Greatest handheld Mega Man games of all time.
Mega Man V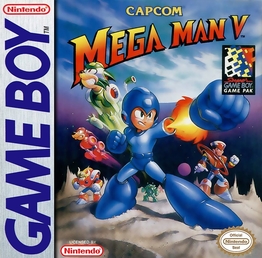 We kickstart the list with Mega Man V. Released for the original Gameboy in 1994 and backed by the publishing power of Capcom, Mega Man V further refines many of the series' preestablished systems, while bringing a slew of new features to the floor.
Unlike other Mega Man games, the fifth Gameboy installment grants players a new default weapon, known as the Mega Arm. But perhaps more importantly, it offers up all-new, in-game bosses, without recycling those from existing canon. (NES collection of Mega Man games).
Still unsatisfied? Well, fans get to meet a new sidekick character named Tango. What's not to love?
Mega Man Zero 4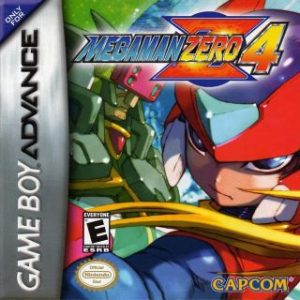 Next up, we have MMZ4. In truth, both Mega Man 3 and 4 of the Zero series deserve a slot on this list. However, we've decided to reserve that spot for Mega Man Zero 4.
Aside from anything else, MMZ4 is a highly polished and cleverly crafted entry on the Gameboy Advance. On that note, players can experience a series of inspired backdrops and stage environments. These unlike other entries in the franchise.
On top of that, the official OST acts as one of the best—especially so, of the Zero series. And in terms of a story, the endgame to Mega Man 4 is both epic and powerfully poignant. Without meaning to give too much of the game away, expect a climactic finish.
Whether you're a long-term fan or not, this one's a must-play experience.
Mega Man ZX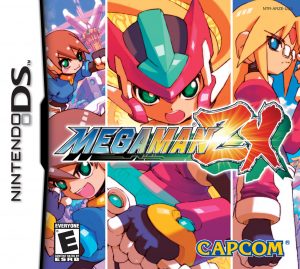 Although there are, in fact, two entries in the Mega Man ZX series, for me, Mega Man ZX pips its sequel to the post. Despite the soundtrack being perhaps slightly better in the follow-up title, Mega Man ZX Advent, as a firm fan, the first entry on the Nintendo DS left much more of a lasting impression on me.
Mainly because of the game's robust central story, which acts as a stable spine throughout. Thus, giving context to the games gripping gameplay.
Thankfully, the potent synthesis of platforming sections with intense side-scrolling action synonymous with the series is again ever-evident here.
The result is a dazzling display of vibrant pixel art with scintillating side-scrolling sections. It doesn't get much better than that. If you haven't already, I urge you to go out and play this cult-classic on the Nintendo DS today.
Mega Man ZX Advent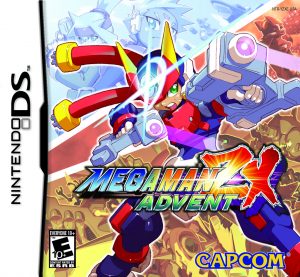 The fourth entry to grace this list of great games is Mega Man ZX Advent. Now, it may have narrowly missed out to its predecessor, and our previous entry on this list. But that doesn't tarnish its reputation as one of the most rocksteady Mega man-games to hit a handheld device.
Following on from the flow of Mega man ZX, Advent uses  the newly adopted Metroidvania mapping of its level structure, but with a linear approach to design. It also features a vastly improved map along with 2X the number of possible transformations.
Taking place some 200 years after the events of the Mega Man X series, the game stays true to the overarching story. Thus, capturing the spirit of its predecessors, while continuing in the same vein.
Additionally, there are even three robots named after the immortalized characters of Doctor Wily, Light, and Cossack.
No doubt, a pleasing Easter egg for long-time fans of the franchise.
Mega Man Powered Up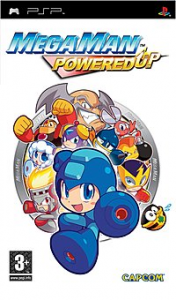 The fifth and final entry on this list is more of a fun throwback for me. Even so, it's still a rock-solid game that sets the gold standard. At least as far as remakes are concerned.
With fully reimagined graphics and a wholesome host of fresh content, produced via the added power of the PSP, Capcom ultimately bred new life into the original NES game. Mainly in ways, we hadn't seen before.
Plus, it has a massive cast of Mega Man characters to pick from, as it includes the iconic, Robot Masters set, among others.
And, if that wasn't enough to whet the appetite, the inclusion of two new boss characters, with up to 100 fresh challenges, should provide enough reason to revisit this PSP classic.
Experience the Legacy for Yourself
Lastly, I'd like to encourage anyone out there interested in the Mega Man franchise to replay the original NES games. Now I know, with so many titles, it can be hard to keep track of every game.
But there are some decent packages out there. For instance, the Mega Man X Legacy Collection contains all six of the original 16-bit titles, along with all four in the Mega Man X series, belonging to the 32-bit era.
So that set on the Nintendo Switch could be a wise place to start. But wherever you begin your journey, there's much magic to be had.
Having had the time to revisit these great games, it's easy to see why Mega Man has retained such cult-status. But also, why it remains one of the most iconic IP's in all of gaming.
Final Verdict
Overall, this list was hell to curate. As you might imagine, picking between such prestigious games, while narrowing down an already classic collection provides an immense challenge—both in and of itself.
But hopefully, this list will act as a helpful starting point for those looking to dip their feet into the world of Mega Man for the first time. Meanwhile, giving long-time fans of the franchise a nostalgic blast from the past.
And although the list is subjective, in a sense, as is the case with any, I feel it adequately showcases the very pinnacle of games possessing the Mega Man IP on handheld systems.
Go back and revisit these classics today. You won't regret it.