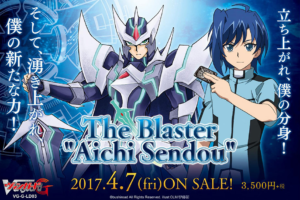 I am excited for the next Legend Deck! Players have been waiting for Aichi to get his Legend Deck. Aichi will return in Cardfight!! Vanguard G and Blaster Blade will join him. The Blaster "Aichi Sendou" Legend Deck is the third Legend Deck to be released by Bushiroad. Aichi's original cards return as stronger versions than their previous versions. Blaster Blade is now Blaster Blade Exceed and Alfred finally evolved into a G-Unit as Divine King of Knights, Alfred Holy Saver!
The third legend deck includes a 58 card deck, one deck box, a counter with Aichi's photo, and two copies of Holy Dragon, Religious Soul Saver! The deck has sixteen new cards and two reprints. The Japanese edition will also include exclusive sleeves. I am disappointed that the English edition will not receive the sleeves. English players' only option is to buy expensive packs of sleeves.
I am looking forward to the new cards. My very first deck was the Blaster Blade trial deck and I have continued to upgrade the deck over the years. The cards in the deck may finally go into my collection binder. The Blaster "Aichi Sendou" Legend Deck will be released in English in June 2017!