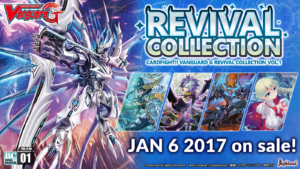 I am excited for the upcoming Revival Collection. The Revival Collection is Bushiroad's first set with reprints for the English edition. Many players such as myself have been asking Bushiroad to reprint many classic units from the game's early booster sets! The Revival Collection features many popular cards from every era of Cardfight!! Vanguard. Almost every clan is featured in the booster set. The only exception is Angel Feather. Bushiroad's reasons for excluding Angel Feather are unknown.
I want many of the most noticeable reprints. Dragonic Overlord The End, Salvation Lion, Grand Ezel Scissors, and Sword Breaker are just a few of the many awesome reprints. I do not own a copy of Dragonic Overlord The End. It would be very nice if I am able to add a copy to my collection. I plan on buying at least two booster boxes of this set next week.
Each booster set of the Revivial Collection includes ten booster packs. There are three cards per booster pack. Each booster pack has two rares and one card of a higher rarity. All cards in the set are holo! The Revival Collection hits stores on January 6, 2017! Stand up my avatar Blaster Blade!