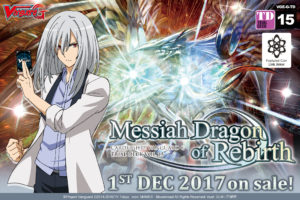 Link Joker is getting new cards in two upcoming releases by Bushiroad! Link Joker has an upcoming extra booster set and trial deck. The infamous clan has three powerful factions. The Star-Vaders invaded Cray and Earth in season three of Cardfight!! Vanguard and continued the chaos in season four. The Deletors were a powerful unit of Star-vaders and were thought to be destroyed on Brandt. The survivors evolved into mutants with the ability to delete vanguards. Messiah was born from the remains of dead Star-vaders and Deletors. They became new Gods and heroes on Cray.
Messiah Dragon of Rebirth is the upcoming trial deck for Messiah decks. A new grade 3 Messiah is introduced! Alter Ego Neo Messiah is the newest grade three unit for Messiah decks! The deck also includes reissued Two new G-Guardians are included to create the ultimate defense! Destiny Dealer and Alter Ego Messiah. Players are getting a lot of good cards for their money. Messiah Dragon of Rebirth is looking like Link Joker's best trial deck to date.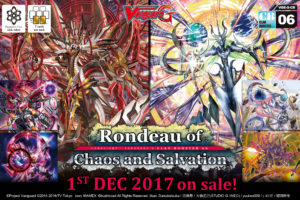 Rondeau of Chaos and Salvation is Link Joker's first ever exclusive Extra Booster Set! My favorite villain Chaos Break Dragon strikes back! He has returned with new and powerful cards to lock his enemies into submission! Messiah continues to gain new support to assist the new cards from Messiah Dragon of Rebirth. New cards to upgrade Glendios and Deletor decks will also be included.
Messiah Dragon of Rebirth and Rondeau of Chaos and Salvation will be released on December 1st, 2017!