Revival Collection Volume 2 is an exclusive booster set for the English Edition. This booster set only contains reprints of cards from Cardfight!! Vanguard G. All of the reprints are key cards for the premium format. Every clan and nation are featured in the booster set. The cards in this set are grade 1 cards for stride, G-Guardians, and G-Units.
Release Date: April 26, 2019
Experience the Premium Format!
New and returning players can now experience the Premium Format. This booster set gives these players easier and more affordable access many cards. It is also a great product for veterans. Some of us are looking to add a few more cards to our decks. I needed the Holy Sword of Heavenly Law, Gurguit that I pulled from my box.
However, you cannot complete your extra decks with this single set. The Revival Collection Volume 2 only has one G-Guardian and G-Unit for each clan. You still need to purchase more cards individually or booster boxes to complete your extra deck. An extra deck is 16 cards. You need G-Guardians for defense and G-Units for offense.
The Best Reprints:
Original Deletor, Egorg
Supreme Heavenly Emperor Dragon, Dragonic Overlord "The Purge"
You will find a lot of valuable cards in Revival Collection Volume 2. All six Zeroth Dragons and Lord Gyze are reprinted in this set. The Zeroth Dragons are staple cards for every deck in the premium format. Furthermore, they are the most valuable cards cards in the set. Each card is worth more than $50, and they are the rarest cards in the set.
Full Art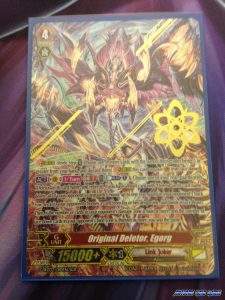 Finally, every card in Revival Collection Volume 2 is foiled in full art. These cards look beautiful in full art. The characters look like they are popping out of the art. Players can create a full deck of foiled cards. You can be the cool player with the shiny deck at your local card shop.
I pulled Original Deletor, Egorg from my booster box. This card looks amazing in full art as a SGR. I like the nation emblem on the card. It adds more glamour to the card. I am going to put it in my collection binder.
The Final Word
Overall, Revival Collection Volume 2 is an amazing booster set with great cards. I love the full art on all of the cards. Players can now play decks with only foil cards. The selection of G-Units is very good. Every clan is well represented, and the most important cards from every clan received much needed reprints. Go to your local card shop and purchase a box of Revival Collection Volume 2!
Overall Value:
(5 / 5)
Quality of Reprints:
(5 / 5)
Final Rating:
(5 / 5)