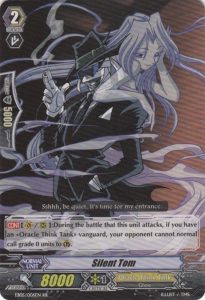 Huh, if you want to capture me, bring along a fine lady. 

[CONT](VC/RC):During a battle that this unit attacks, if you have an «Oracle Think Tank» vanguard, your opponent cannot normal call grade 0 units to (GC).
Beware of the vanguard in black. Grade 0 and grade 1 units fear him. Grade 2 units wonder why the lower grade units aren't helping their defenses. Vanguards are nearly defenseless against him! That's right! You know the man in black. His name is Silent Tom!
Silent Tom is an excellent rear guard unit. He adds pressure on the opponent because they can only defend with grade two units to block his attacks. Maximize his power by boosting him with Oracle Guardian, Gemini. An opponent with an 11,000 vanguard must guard with two cards instead of one.
In addition, it is best to save Silent Tom for the last attack. A player can apply trigger effects to him. This is a very good strategy. Silent Tom with Oracle Guardian, Gemini's boost, an additional 5,000 power, and a critical is difficult guard against. That is a total of 21000 power and 2 critical damage. An opponent will be unable to handle this attack if he or she is lacking grade 2 units in their hands.
Finally, it is best to call Silent Tom to the rear guard during the late game. An opponent will rear him if he is played early in the match. Maximize his potential by playing him in the late game. He has a better chance of lasting longer in the late game.
In conclusion, Silent Tom is an amazing Oracle Think Tank unit. Opponents only option to block his attacks is by using grade 2 units. This makes up for his mediocre 8,000 power. He is an amazing rear guard for the late game.
Card Rating: 4 out of 5