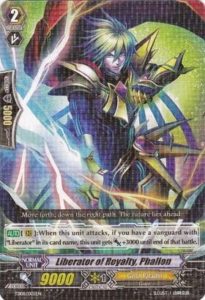 Decks and units are becoming stronger in every booster set. Grade 2 units have reached the next level. They are the 12K attackers. If you have not heard about 12K attackers, then you need to stop living on a rock. 12K attackers have become staples in most of today's decks. They are some of the best rear guard units in game. They outclass the classic 10K attackers. Many players have elected to retire their 10K attackers to their binders while adding 12K attackers to their decks. I will only focus on grade 2 units with 12K attacking power.
The first wave of 12K attackers was released in Booster Set 4: Eclipse of Illusionary Shadows. They were made for specific decks and boss monsters. These units are Ironcutter Beetle, Lava Arm Dragon, and Enigroid Comrade. They gain 2,000 power when attacking. However, they also lose 5,000 power if they do not have the correct vanguard. This is a huge disadvantage because these attackers are built for Ride Chain decks. They could become 7K rear guards and vanguards if they are paired with the wrong vanguard including themselves. They are essentially 12K attackers because they are only efficient in very particular decks.
Extra Booster 1: Comic Style Vol. 1 introduced two new types of 12K attackers, Jumping Jill and Machining Mantis. Machining Mantis gains 3,000 power when having a particular archetype in the soul during the turn it is called to the rear guard circle or vanguard circle. Unfortunately, Machining Mantis is very mediocre because his power boost is for only one turn. Jumping Jill gains 3,000 power when she is superior called from the Soul to rear guard. Jumping Jill is a much better 12K attacker than Machining Mantis. Pale Moon's tactics revolve around the Soul.
Booster Set 5: Awakening of Twin Blades introduced 12K attackers who gain 3,000 power when having a specific archetype as the vanguard. Burning Horn Dragon and Knight of Loyalty, Bedivere are the first in a line of heavily played 12K attackers. This is the most popular 12K attackers because they are very efficient. Nearly every archetype has this type of 12K attacker. Fortunately, they do not suffer from the same ill effects of not having a particular archetype or cards as the vanguard. I believe Bushiroad's design team recognized the first 12K attackers' fatal flaw and removed the negative effect.
In closing, grade 2 12K attackers come in all shapes and sizes. Some are more effective than others due to having much better consistency. Booster Set 5: Awakening of Twin Blades presented the first wave of the future of grade 2 12K attackers. They are key pieces to most decks' offensive strategy. You now know the history of 12K attackers. Get your game on and put your 12 attackers on the battlefield!