Cardfight!! Vanguard has the most artwork among rival trading card games. It should not be a surprise to see great art for female characters. Female cards can sometimes be some of the most popular cards in a trading card game. A bad card can still be valuable because it features an attractive female character. This is a little bit of guy talk. I do not care if you are offended by this subject. Bushiroad would most likely say no unit has a particular race. I can use my imagination! Do not let their looks detract you! These ladies can pack a punch. Some of the game's best cards are women.  My first list was made in 2013.
My list consists of ladies from all eras in Cardfight!! Vanguard. We have female units with Limit Break, Break Ride, Legion, and Stride! Here are the rules. A character cannot take two spots. She will be given one spot for all of her forms.  Take a look at the original top 10 ladies in Cardfight!! Vanguard. These ladies rival Dark Magician Girl's perfect artwork from Yu-Gi-Oh
1. Silver Thorn Dragon Queen, Luquier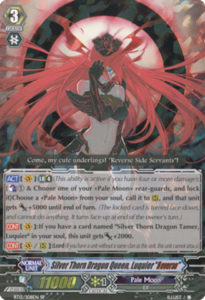 There is no woman sexier than a dominant woman. I love Luquier's art! Luquier the darkest female character in Cardfight!! Vanguard. She gets what she wants from men by the means of seduction. All of her victims become her slaves for the rest of their lives.
2. Flower Princess of Perpetual Summer, Verano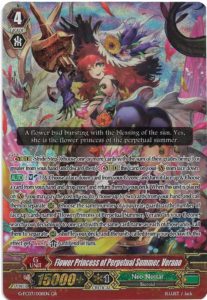 I had difficult decision to rank Luquier and Verano. Verano slipped to number two because Luquier is just so good. Her introduction Cardfight!! Vanguard G was the hottest Stride on the show! Verano is a cutie with a dynamic skill. One at her and you will want to go green!
3. Broken Heart Jewel Knight, Ashlei "Яeverse"


Ashlei is one of my favorite cards because of her marvelous art. She is the first female Royal Paladin to be a grade 3 unit. Ashlei's Break Ride skill is disappointing for a Royal Paladin unit. However, her Reverse counterpart is far sexier and has an elite skill. I expect the best from Royal Paladins as they are my favorite clan.
4. Ranunculus Flower Maiden, Ahsha


I am taking one more look at Mother Nature! I am always amazed at Ahsha when I see her in action on Cardfight!! Vanguard G. She is one of the hottest babes in the anime.
5. Mesmerizing Witch, Fianna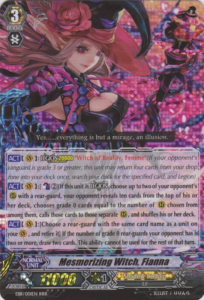 Fianna's beauty is mesmerizing. I am sure Blaster Dark would be more focused on Fianna than his enemy in battle. Read Fianna's lore. She is close friends with Luquier.
6. Regalia of Wisdom, Angelica
Angelica is one of the most beautiful cards in Cardfight!! Vanguard. I like her card's art much better than her design from the anime. Her features have better details in the card.
7. Aurora Star, Coral
Bermuda Triangle is the only clan to only feature female units. It stands in good reason to have at least one of their beautiful ladies to earn a spot in my list. Aurora Star, Coral is a "cool beauty" and a popular singer on Cray. She is basically Cardfight!! Vanguard's version of Carrie Underwood. She is more than just a pretty face!
8. Flashing Jewel Knight, Iseult


Iseult is my favorite Perfect Guard and was the first RR that I pulled from a booster pack. Enemies' attacks will not get passed her!
9. Skull Witch, Nemain
Skull Witch, Nemain is the only returning woman from the original list. She is the first female card to catch my attention. Her power is low, but her looks are much higher than almost any unit before her first appearance. Nemain was a key card in Shadow Paladin decks from the original era.
10. Blue Storm Battle Princess, Lynpia
Blue Storm Battle Princess, Lynpia is the most valuable card in my Blue Storm Legion deck. Her skill is fantastic! She earned her spot on this list for her beauty and skills!
The Final Word
These are my top ten sexiest women in Cardfight!! Vanguard. These cards have a special place in my collection binder. It is perfectly fine if you disagree with my opinion! We all have different tastes for art. Who do you think I should have included in my list? Let me know your favorite women in Cardfight!! Vanguard in the comment section below!