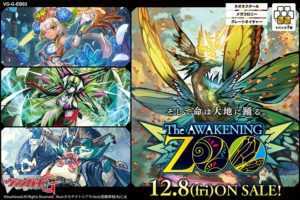 Bushiroad has revealed the second booster set for Cardfight!! Vangaurd GZ! The Awakening Zoo features every clan from the Zoo Nation! Great Nature, Megacolony, and Neo Nectar will have new cards. This set contains 76 cards and players will be able to build decks for each clan in The Awakening Zoo. Ahsha will get a new grade 3 named Phantom Blue Ranunculus, Ahsha. Her skills are currently unknown.
Evil Governor, Darkface Gredora is one of the new villains in Cardfight!! Vanguard GZ. I am looking forward to her story in the upcoming season. She makes her debut in The Awakening Zoo. Her skills are terrifying!
Evil Governor, Darkface Gredora's skills
AUTO (VC) 1/Turn: [Counter Blast 1] When this Unit is placed on (VC) OR when your G Unit Strides, you can pay the cost. If you pay it, choose 1 column, during the next turn, your opponent cannot call cards to the (RC) of that column. (They also can not Superior Call)
AUTO (VC) Generation Break 1: [Soul Blast 1] When your Ride Phase begins, you can pay the cost. If you pay it, your opponent chooses 1 face-up card in their Damage Zone, flips it face-down, and you Counter Charge 1.
The Awakening Zoo is set to be released in Japan on December 8, 2017. The release date for Western players has not been announced. Stay tuned for more updates!