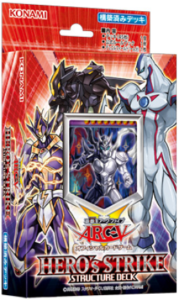 The TCG's players have been waiting for Hero's Strike to be released in English and the wait is finally over! Konami has announced that Hero's Strike will be released in the TCG on January 30th, 2015! HERO monsters are one of the most popular and fun archetypes in Yu-Gi-Oh! Jaden won many duels using his heroic HERO monsters to save the world from evil forces. Hero's Strike features many reprints of our favorite HERO monsters, and introduces new HERO Fusion monsters! Contrast HERO Chaos is the featured Ultra Rare card.
Hero's Strike Includes
40 Common Cards
1 Ultra Rare Card
4 Super Rare Cards
1 Dueling Guide
1 Rulebook
1 Game Mat
Get read to get your game on January 30th, 2015 with Hero's Strike!
Source
Cyberduelist.com