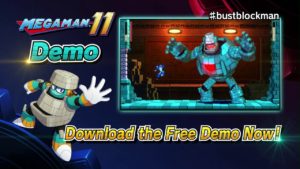 Mega Man is back! The demo for Mega Man 11 is now available for the Nintendo Switch, PS4, and XBox One. Mega Man's 11 demo features Block Man. You can battle against Dr. Wily's newest creation. Test the new Double Gear System with the Mega Buster! Get your Mega Buster ready for plasma power!
Jump in to the Mega Man 11 Demo, available now for Nintendo Switch in NA and EU, and coming to PS4 and XB1 starting tomorrow, Sep 7!
▶️ https://t.co/zRsfWCKOhX pic.twitter.com/YN1pODD9Sz

— Mega Man (@MegaMan) September 6, 2018
The new demo reveals new features and the full cast of Robot Masters! A Challenge Mode tests your skills in various trials in each Robot Master's stage. Your skills are put to the ultimate test!
We have a new Robot Master and his name is Bounce Man! This huge and pink robot has taken control over a family entertainment center! If you combine Chuckecheese with Mega Man then you will get Bounce Man's stage with bouncy balls! The stage reminds me of Clown Man's stage with the balls and toys. Then, Bounce Man bounces around in his chamber to make it difficult to avoid making ill-advised contact.
Bounce Man's name is different overseas. His name is Rubber Man in Japan, and this makes him a second Robot Master in the game with a different name overseas.
Get your weapons ready and take it to next level with Double Gear! Mega Man 11 will be released on October 2nd, 2018.