I have awesome previews for the first set from Hyper Juken! Hyper Juken has shared previews of three upcoming cards from Alpha 1: The New Challengers. We have one card for each color! You can select the best cards for the perfect deck for your fighter in the Hyper Juken tournament!
Back Buster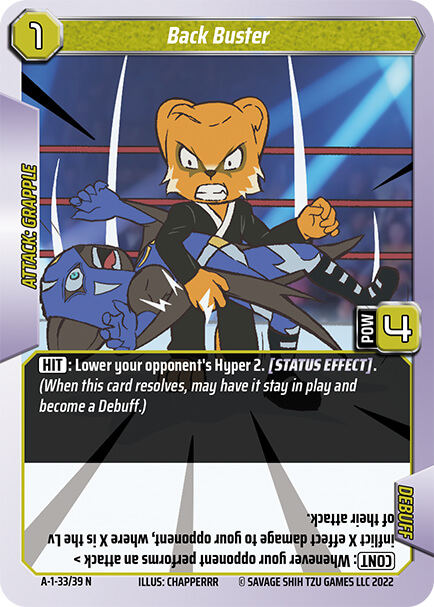 Card Type: Attack: Grapple & Debuff
Color: Yellow
Back Buster is an Attack and Debuff in a single card. It remains in play after you play it for its attack. The attack of Back Buster deals 4 damage and  lowers the opponent's hyper. The Debuff of this card deals damage equal to a card's level when an opponent attacks you. It is a strong card for offense and countering the opponent.
Furthermore, this is a great card against Lucy and El Eterno. Back Buster because Back Buster reduces two of the opponent's hyper. This effect counters those decks. You do not want them to reach max hyper. El Eterno unleashes his very powerful attack, the Flying Vampiric Dive at max hyper and you may delay the activation with Back Buster.
I like the consequences for your opponent attacking your fighter. The effect of the Debuff resembles realism. The opponent's fighter has an injured back and the opposing fighter receives damage when they perform attacks. Their back cannot handle pressure on it from combat.
Therefore, an opponent is less likely to play an attack with a high level. He or she will take damage in combat. This condition may force them to pass on their next action.
High X Block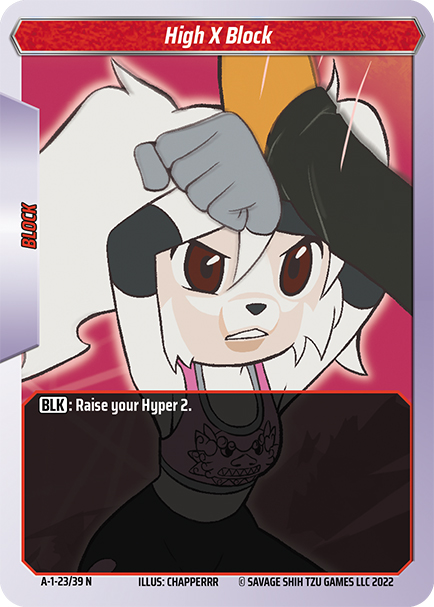 Card Type: Block
Color: Red
This High X Block is a valuable card for defense and your Hyper. It serves two purposes in a single action. Your fighter successfully blocks an attack. In addition, High X Block raises your fighter's hyper by two!
Furthermore, High X Block is a great card for Lucy, The Chrysanthemum Princess. Her image is on the card for a big hint. Her strategy is quickly raising her hyper to unleash her Hyper Fighter!
The Equalizer
Card Type: Attack: Special
Color: Blue
The Equaliser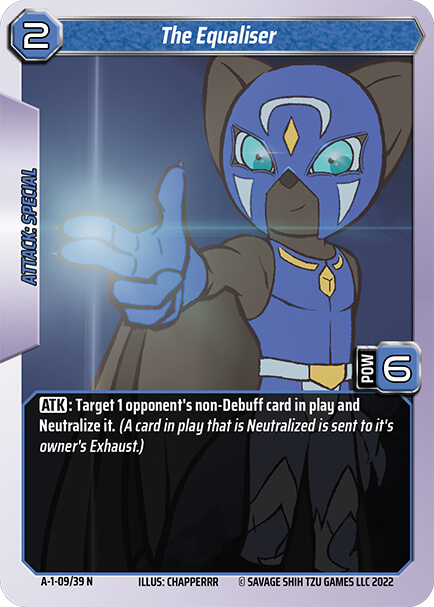 Special attacks can be powerful cards when you play them at the right time. The Equaliser is a special attack with an effect. The Equaliser deals six damage if it hits the opposing fighter. You also neutralize an opponent's non-Debuff such as a Buff and a set card like a Tactic in play. It may also neutralize future types of cards as well.
In addition, The Equaliser counters an opponent with a Buff in play. This is the only type of card that can be neutralized with this attack. The opponent loses a key card.
Furthermore, The Equaliser is an effective card for El Eterno. Due to El Eterno's ability, you will heal one card if this attack hits the opponent. You recover damage and the opponent loses a Buff in play.
More Previews:
You can check more previews of Hyper Juken at the official YouTube channel. They post new cards for the upcoming set every week. Subscribe to them at YouTube to stay up to date on new cards!
YouTube: Hyper Juken
Kickstarter:
Hyper Juken has launched their campaign on Kickstarter. You can be a contributor and get your hands on these awesome cards. Click the link below to contribute to the Kickstarer!
Kickstarter: Hyper Juken