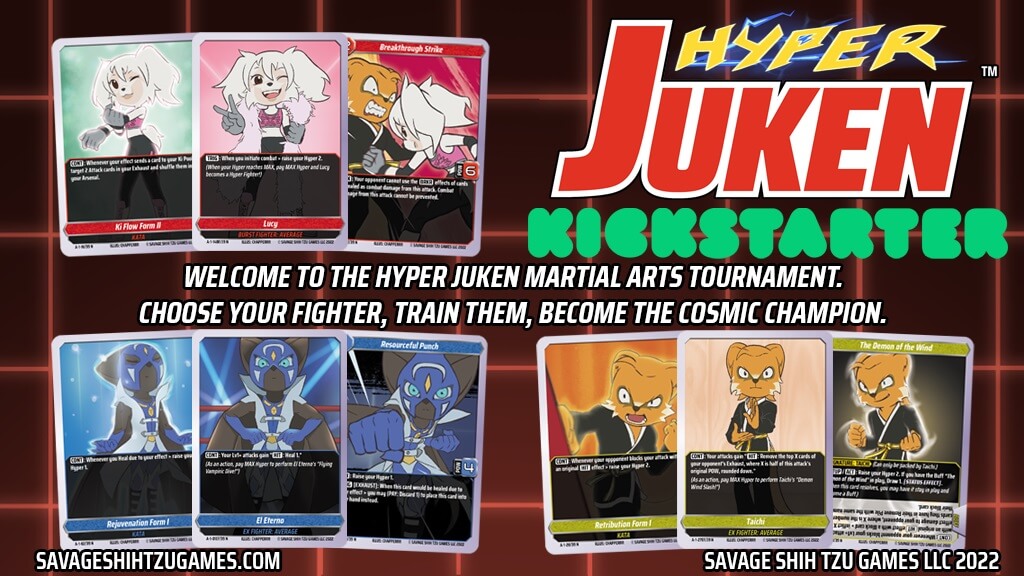 Savage Shih Tzu Games have launched their campaign for Hyper Juken at Kickstarter! The game is being developed by SomerGamerDude. The Kickstarter features details about the game's rules, characters, and cards. In addition, backers will receive special perks for supporting Hyper Juken as the next trading card game!
Meet SomeGamerDude!
SomeGamerDude is a longtime member of the TCG community. He has a passion for trading card games. He started a blog about Cardfight!! Vanguard in 2012. Then, SomeGamerDude started a YouTube channel about all types of trading card games.
Now in 2022, SomeGamerDude has taken his passion for trading card games to the next level. He used his knowledge of previous games and created Hyper Juken! The purpose of this trading card game is give a fun and positive experience for players.
What is Hyper Juken?
Hyper Juken is a trading card game about the a material artist tournament with the most powerful warriors from around the world! Choose your fighter and enter the ring! Use the strongest techniques to overwhelm the competition in battle! Unleash your fighter's true potential in their Hyper Mode!
Set 1's Fighters!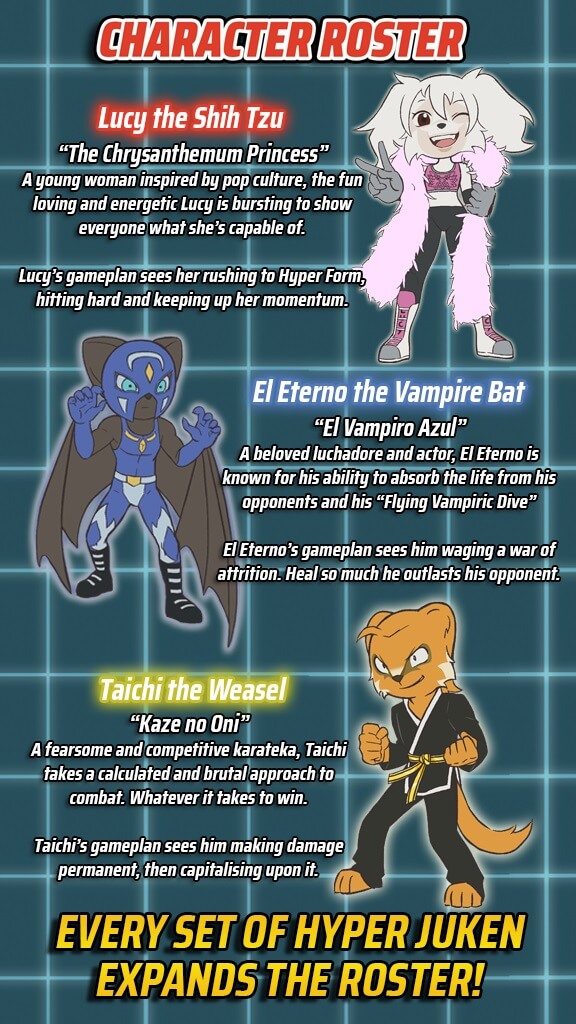 The first set is an introduction of the tournament of Hyper Juken! The first three fighters are Lucy, El Eterno, and Taichi! Each fighter has a unique strategy and players have a variety of styles to choose from.
Lucy, The Chrysanthemum Princess
Lucy is an aggressive fighter! Her strategy is becoming a Hyper Fighter as quickly as possible! Many of cards raises her hyper and her high level attacks deal damage despite opponents blocking those attacks! She unleashes strong attacks from cards such as  Burst Takedown.
El Eterno, The Vampire Bat
El Eterno, The Vampire Bat is a Lucha libre in the Hyper Juken tournament! His plan is outlasting opponents in combat! El Eterno, The Vampire like Rey Fenix in AEW can outlast his opponent because his supports heals damage!
In addition, El Eterno, The Vampire Bat's finisher is the Flying Vampiric Dive! This maneuver from the top rope requires you to pay Max Hyper! Opponents can only block this attack with a Block from the hand and pay three Ki if you have three Ki in your Ki Pool.
Taichi The Weasel is a complex fighter in Hyper Junken. He will do anything to win the fight! Taichi uses a combination of effects for an advantage. Tiachi's Ex Fighter removes the top cards of an opponent's deck, and this effect complements cards like Sniper Beam.
For instance, Sniper Beam has the perfect effect for a weasel. An opponent cannot block the attack with a Block card if a copy of the Block card is in the opponent's removed pile. Sniper Beam forces an opponent to either use a different Block card or take damage!
Hyper Attacks!
Fighters have signature techniques and these attacks are Hyper Attacks! This mechanic is one of a fighter's best moves in battle. A Hyper Attack deals a lot of damage to the opponent and it requires maximum hyper for the cost.
Sets:
A set of Hyper Juken includes many cards for you may create a deck and play with your friends. It contains a total of 132 cards. The box includes three fighters and their arsenal. The set also includes two foils of each card in your arsenal.
Cards in a Set:
A Total of 132 Cards
3 Foil Fighter Cards
6 Foil Kata Cards
3 Fighter's Tool Cards
60 Full Art Foil Attack/Block/Tactic Cards
Two Foils of each card
Full Art Foil
Kickstarter:
Hyper Juken has officially started its Kickstarter. The goal is earning the funds to start Hyper Juken and players around the world may enjoy the new trading card game. The campaign will last at least 35 days.
The Kickerstarter's goal is $8.289 in USD and that is $12,000 AUD. Our support will lead to the next great TCG. Please contribute to the campaign if you want Hyper Juken to become a reality.
You may contribute $75 AUD or $52 USD for the first set. Your postage will be added on to the final price. This package contains the full arsenal for players may play a good deck out of the box.
Kickstarter Perks:
Savage Shih Tzu Games is offering awesome perks from the Kickstarter campaign. Backers will be rewarded with exclusive products. These perks are a sign of thanks for your support to make Hyper Juken a reality.
Alternate Art Kata card per set
Players will get an alternate art kata card per set purchased! The card will have the text and named stamped with a KS logo as well as a thank you message.
Furthermore, the promos will be personalized for people who purchase 3 or more sets. This part of the perk is a personal thank you. It will include your name.
Add-on mat with art exclusive to the KS
Savage Shih Tzu Games will offer a play-mat with exclusive art if the Kickstarter surpasses 500 units!
Support Hyper Juken!
Hyper Juken is a trading card game with a lot of potential. I recommend checking out the official YouTube channel, Twitter page, and Facebook page for updates. Hyper Juken is always revealing new cards and mechanics on their social media platforms!
Furthermore, Hyper Juken posts videos on the game's rules on YouTube. You may learn how to play the upcoming TCG. They recently posted a game with the fighters in action!
Official Kickstarter for Hyper Juken: Kickstarter
YouTube Channel: YouTube
Twitter: Twitter
Facebook: Facebook