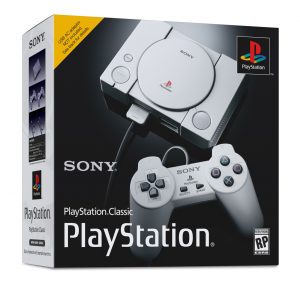 The Sony PlayStation was released 25 years ago, and Sony has announced they are releasing the PlayStation Classic. The mini console will include 20 pre-loaded games. Sony promises to include fan favorite games such as Final Fantasy VII and Tekken 3. All games will be presented in their original forms from the original PlayStation. PlayStation Classic will launch on December 3rd, 2018 for $99 USD.
The PlayStation Classic is 45% smaller than the original console. The mini console includes two controllers, a HDMI cable, and a USB cable to connect to your TV. They have already taken the right step of including two controllers. Ask a friend to join you. One of the NES Classic's criticism was not including a second controller for multiplayer games. Sony will release more details on their retro console soon.
I still have my PlayStation 1 in my storage unit. It still runs smoothly today. New players will be able to experience classic games at a low price. Many games such as Final Fantasy VII are very expensive and hard to find at retro game stores. This mini console is the perfect alternative.
Sony was likely influenced by the success of Nintendo's NES Classic and SNES Classic. Both mini consoles have dominated the gaming market for two consecutive years. According to NDP, the NES Classic was the best selling console in June 208. It outperformed the PlayStation 4, Nintendo Switch, and the XBOX One. Sony is hoping to capture the same success with their PlayStation Classic.
https://www.youtube.com/watch?time_continue=59&v=nl2h8LDq_oI
This is the full list of pre-loaded games on the PlayStation Classic
Final Fantasy VII
Jumping Flash
Ridge Racer Type 4
Tekken 3
Wild Arms
Sources: