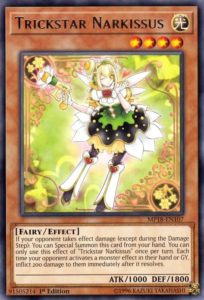 [Fairy/Effect]

ATK/1,000 DEF/1,800

If your opponent takes effect damage (except during the Damage Step): You can Special Summon this card from your hand. You can only use this effect of "Trickstar Narkissus" once per turn. Each time your opponent activates a monster effect in their hand or GY, inflict 200 damage to them immediately after it resolves.
Trickstar Narkissus is a level four fairy and she is a member of Trickstar. This monster has a low ATK of 1,000 and DEF of 1,800. Her brilliance shines from her useful effects. Trickstar Narkissus special summons herself and she inflicts damage to the opponent. Her effects complement the strategy of Trickstar.
First Effect:
Trickstar Narkissus special summons herself from the hand when your opponent takes damage except during the damage step. This is a valuable effect. You get a free monster on the field, and the effect rewards you for playing well.
Furthermore, Trickstar Narkissus can consistently special summon herself to the field. Many monsters in Trickstar have effects with the ability to damage the opponent. For instance, Trickstar Candina inflicts 200 points of damage to the opponent, and Trickstar Narkissus special summons herself from the hand.
In addition, Trickstars with the ability to special summon themselves have value to the archetype. Trickstars use Link Summons to play their strongest monsters. Trickstar Narkissus increases the consistency of your Link Summons. You have an additional monster as material on the field.
Therefore, this useful effect sets up Link Summons. You may activate a Trickstar's effect to damage the opponent and you may special summon Trickstar Narkissus. Then, you may use these monsters for materials to special summon Trickstar Holly Angel.
Second Effect:
Like most Trickstars, Trickstar Narkissus damages an opponent when a particular action occurs during the duel. Trickstar Narkissus inflicts 200 life points of damage when an opponent activates an effect from his or her graveyard. This small amount of damage can build problems over time against certain decks.
Many cards in the graveyard trigger Trickstar Narkissus's second effect. For example, Glow-Up Bulb, Metalfoes Fusion, and Return of the Dragon Lords activate effects in the graveyard, and they trigger this effect. Trickstar Narkissus damages and punishes the opponent with 200 life points of damage for playing these powerful cards.
Support:
Trickstar Narkissus has a lot of good support. Trickstar has powerful cards with consistent effects. Some cards add Trickstar Narkissus to your hand. You may also use this monster as material for Link Summons and Fusion Summons.
Furthermore, Trickstar Narkissus is material for many monsters from Trickstar. You may use this card to Link summon Trickstar Foxglove Witch and Trickstar Holly Angel. These are powerful Link Monsters for the archetype, and you should consider summoning them as quickly as possible.
In addition, many cards add Trickstar Narkissus to your hand. Trickstar Light Stage adds Trickstar Narkissus from the deck to your hand. You have instant access to the card, and this field spell card sets up the first effect. The monster is now in your hand and you only need to damage the opponent with an effect to trigger the first effect.
Play these cards with Trickstar Narkissus!
Trickstar Foxglove Witch
Trickstar Holly Angel
Trickstar Light Stage
Card Rating:
Overall, Trickstar Narkissus is the perfect level 4 monster for Trickstar. She complements the archetype's strategy because she puts you in a position for success. This effect monster sets up Link Summons with her effect because she special summons herself. This effect monster also inflicts damage to the opponent. I recommend playing three copies of Trickstar Narkissus in your deck.
Card Rating:
(3.5 / 5)