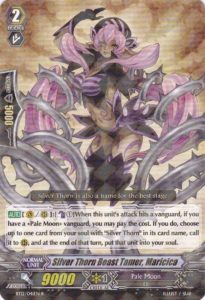 Silver Thorn is also a name for the best stage. 

[AUTO](VC/RC):[Counter Blast (1)] When this unit's attack hits a vanguard, if you have a «Pale Moon» vanguard, you may pay the cost. If you do, choose up to one card from your soul with "Silver Thorn" in its card name, call it to (RC), and at the end of that turn, put that unit into your soul.
Let's welcome the next performer on stage! She will join Luquier in a marvelous performance! I recently pulled the beautiful Silver Thorn Beast Tamer, Maricica! She is one of the top performers in the Pale Moon Circus!
The Pale Moon clan is famous for superior calling units from the soul for additional attacks. Silver Thorn Beast Tamer, Maricica stays true to her clan's tactics. Silver Thorn Beast Tamer, Maricica can superior call a Silver Thorn unit from the soul to a rear guard circle. Maricica allows players to gain an additional attack when her attack hits a vanguard. It's great for a limit game push!
Furthermore, Maricica is a great performer in a Silver Thorn Dragon Queen, Luquier "Яeverse" deck. She gains 5,000 power from Luquier's skill. This compensates for the possible locked booster. She would have just enough power to hit a Cross Ride unit. If her attack hits, then she will add another attacker from the soul. This gives Luquier the pressure she needs against opponents.
Finally, Maricica's skill help counter Kagero's and Narukami's retiring tactics and Link Joker's Lock ability. The superior called unit returns to the Soul at the end of the turn. The unit will avoid being retired and locked. The process can be repeated without the fear of losing the unit.
In closing, Silver Thorn Beast Tamer, Maricica perfectly fits in Silver Thorn decks. She really helps Silver Thorn Dragon Queen, Luquier "Яeverse" by superior calling a unit from the soul. Additional pressure is always good pressure. Maricica is ready for her performance!
Card Rating: 4 out of 5