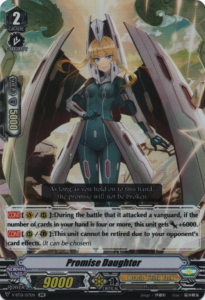 As long as you hold on to this hand, the promise will not be broken.

[CONT](VC/RC):During the battle that it attacked a vanguard, if the number of cards in your hand is four or more, this unit gets [Power]+6000.
[CONT](RC/GC):This unit cannot be retired due to your opponent's card effects. (It can be chosen)
Promise Daughter has been remade for Cardfight!! Vanguard V. Her new card is superior to her original card. She has protection, and gains power in a more efficient manner. I pulled two copies of her out of my three boxes of Unite! Team Q4. She is a double rare and is currently a cheap card to buy online.
Promise Daughter gains 6,000 power if your hand has four or more cards. This requirement is very easy to reach, and you will almost always meet this requirement. Promise Daughter will have 15,000 power from her skill, and she gains an additional 6,000 power from Imperial Daughter. These two skills raise her power to 21,000 before she receives a boost! A rear-guard with at least 8,000 power will boost Promise Daughter's power to 29,000!
Promise Daughter cannot be retired by your opponent's card effects. This skill is fantastic to counter Kagero and Shadow Paladins. The most notable card that you can counter is The Dark Dictator. You may choose which card to be retired and you may choose Promise Daughter. Promise Daughter will deny The Dark Dictator's orders to execute her, and you will not be forced to retire any rear-guards.
However, opponents can attack Promise to retire her. Promise Daughter's second skill does not protect her from attacks. I recommend protecting Promise Daughter if you can afford the defense. She is just too valuable to lose. Losing her could lead to The Dark Dictator retiring your other units.
Overall, Promise Daughter is an excellent card. She has fantastic offense for an Oracle Think Tank card. Her ability to protect herself raises her value. You should run a full set of her in an Oracle Think Tank deck. I currently have two copies of her in my Oracle Think Tank deck, and plan to buy two more cards to complete the set.
Card Rating
(5 / 5)