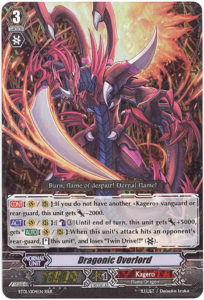 Burn, flame of despair! Eternal Flame!
Unit of The Week is brought to you today by Toshiki Kai! Dragonic Overlord is a great card for any Kagero build. Many Kagero decks focuses on Dragonic Overlord and Dragonic Overlord The End!
Its skill is very amazing. Dragonic Overlord gains 5000 power and can stand when his attack hits an opponent's rear-guard unit. Dragonic Overlord does loses twin drive. However, his skill basically forces your opponent to guard or face a deadly wave of attacks during the turn. Dragonic Overlord as the potential of attacking three times in the turn. He would destroy the two front rear-guard units. Finally he would attack the vanguard. During these attacks the player would gain 3 cards because of the drive trigger check. Now the player could possibly have a major hand advantage.