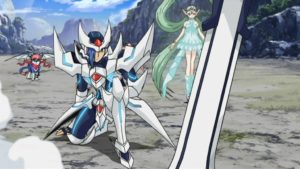 Hi everybody! For the past few two weeks I've been going to my locals for some Vanguard action! The store is across the street from my campus so its not far from my dorm at all. Lately not too many players have been around. Last week I taught a new player the basics and I met a casual player who uses a Oracle Think Tank deck.
I'm a running a Royal Paladin deck. It's an edited trail deck. The deck list is at the bottom of the post! Please tell me what you think about my current build. It's still being constructed as I get better support cards from booster packs.
Last Saturday I was feeling the flow! My holly knights the Royal Paladins were dominant. I won 5 out of 6 matches against Oracle Think Tank. I was getting great draws and drive triggers in every match. I forced my opponent to stay on the defense. The Royal Paladins were punishing my opposition. Blaster Blade was a beast in matches. He was very useful by retiring Silent Tom.
Today I revisited my locals. I brought a few booster packs and I got a SP Blaster Blade. I didn't realize there was a normal artwork Blaster Blade in VGE-BT01. I added the new Blaster Blade and removed a Vovenant Knight, Randolf. Then I decided to make a few more changes to my deck. One Wingal and Solitary Knight, Grancelot were also added to the deck while remove two other cards.
Today I had some very late game bad draws. I lost 3 out of 4 games against the same Oracle Think Tank player. Again he was the only vanguard player in the store at the time. My hands were terrible late game throughout my matches. In the third game I lost two Blaster Blades due to damage. How unlucky can a guy get? The fourth match was very tight and it came down to the last few turns. Both of us were at five damage. Unfortunately for me my Royal Paladins weren't together on the battle field. I was forced to play defensively because I only had Brigitte as the Vanguard and Galatin in the rear-guard. Once I ran out of shields the match was over.
My deck has a long ways to go become it can truly become a force! In good time my Royal Paladins will punish my opponents! This is my deck after my most recent changes!
Grade 0-Starting Vanguard
Stardust Trumpeter x1
Grade 0-Triggers x16
Future Knight, Liew x1
Bringer of Good Luck, Epona x3
Weapons Dealer, Govannon x4
Flogal x4
Yggdrasil Maiden, Elanie x4
Grade 1 x14
Little Sage, Marron x4
Lake Maiden, Lien x2
Starlight Unicorn x2
Knight of Rose Morgana x2
Flash Shield, Iseult x1
Wingal x3
Grade 2 x11
Blaster Blade x3
Knight of Silence, Galatin x4
Knight of The Harp, Tristan x2
Vovenant Knight, Randolf x2
Grade 3 x8
Knight of Conviction, Bors x2
Crimson Butterfuly Brigitte x3
Solitary Knight, Grancelot x3