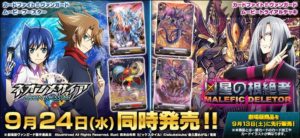 Light Origin Seeker, Alfred XIV
A new trailer for the upcoming Cardfight!! Vanguard movie Neon Messiah reveals a new Alfred,Light Origin Seeker, Alfred XIV! His mate is his comrade and friend Blaster Blade Seeker! Aichi seeks the mate to pair the two Royal Paladins in Legion! This also makes Aichi the series's Royal Paladin player again. It is great to see Aichi returning to his rightful clan!
Trailer and Major Spoilers! 
New footage also reveals Neon Messiah takes place after Legion Mate! Many spoilers led to this conclusion. First, the trailer shows Gaillard competing in the movie's tournament. Aichi does not appear to be affected by Link Joker's seed. The most obvious spoiler previously mentioned is Aichi playing the new Alfred!
Team Q4 Reunites!
Team Q4 finally reunites on the big screen! Aichi, Kai, Kamui and Misaki are finally together as four once again. They will most likely be the favorites to win the movie's tournament based on their fabulous track record.
Movie Booster and Trial Deck!
Movie Booster Neon Messiah features Royal Paladin, Gold Paladin, Kagero, and Link Joker! The boost box contains 50 cards (6 RRR, 8 RR, 10 R, 26 C) + 7 SP + 6 LR. The Trial Deck Malefic Deletor features Ibuki Kouji's Link Joker deck! Movie Booster Neon Messiah and Trial Deck Malefic Deletor will be released on September 24th, 2014!