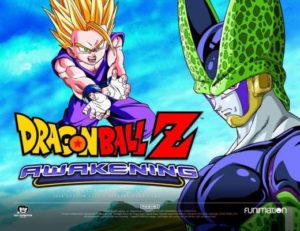 Panini America announced the next DBZ booster set will be Dragon Ball Z: Awakening. Cell and Gohan are featured on the cover art. The only confirmed cards are the Earth Dragon Balls! The Namek Dragon Balls were released in the premiere booster set. We will now have two set of Dragon Balls. Namekian players will enjoying having two sets to choose from.
My Expectations
I am expecting the Cell Games to be featured in the set. The picture tells the story on that end. Gohan and Cell should have new Main Personality sets. I do not know if Panini will also explore the World Games Saga or hold off until the next booster set after Awakening. I am fine with either decision.
Gohan should become the strongest character and the first character to reach Super Saiyan 2. His first wave of personality cards have not made an impact in the format. His power level is just too low to be effective in Saiyan style. This will soon change after Gohan's power level increases to the top of the format. Gohan should be seeing more action in Saiyan decks.
Cell Jr allies should make their debut in the DBZ TCG. Their powers should focus on boosting Cell's abilities to manipulate levels. Cell could be played in more ally decks. He would have his archetype with allies to support his skills. Past allies such as Nappa and Zarbon can benefit Cell's ally deck.
Panini America confirmed the Earth Dragon Balls. Namekian decks such as Cell, Nail, Piccolo, and Lord Slug may see changes. There could be two variations of Namekian decks. One deck may feature the Namek Dragon Balls while the other deck features the Earth Dragon Balls. Players will most likely debate about which set of Dragon Balls is better.
The Final Word
Dragon Ball Z: Awakening will be a highly anticipated booster set. I am looking forward to the new Main Personalities. I am expecting Gohan to be the strongest character in the game for a few months after Awakening's release. Gohan can raise above the competition and take over the meta!  The Earth Dragon Balls could make a major impact in the game if their powers have chemistry with Namekian decks. Relive Gohan awakening his full potential in Dragon Ball Z: Awakening! Dragon Ball Z :Awakening is set to be released on October 28th 2016.