Bushiroad just announced Cardfight!! Vanguard Online! It is the first official online game for Cardfight Vanguard. You can cardfight against other players around the world! The possibilities are limitless. This is great for players like me, who do not have a strong locals or one at all. Veteran players will want to play test their decks. Most importantly, everyone wants to play to get their game on!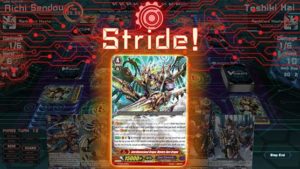 There appears to be a 30 minute time limit for games. This may change upon release. The graphics look amazing for an online trading card game. Players will have high expectations after watching the awesome trailer.
Bushiroad has said the game will be free to play with transaction options. The release appears to be set for the holidays this year. Be sure to check out the official Facebook and Twitter pages for more updates! Do not forget to challenge me online for an ultimate cardfighthing experience!