The Legend of Zelda is an incredibly old and well-loved gaming franchise, characterized mostly by its protagonist Link and titular character Princess Zelda. However, both recurring and unique villains serve to make the game by driving forward the player on their adventures to save the world!
These villains are the top ten villains in The Legend of Zelda. I have ranked the villains by design, story, power, and boss fights! These evildoers are the worst citizens from Hyrule.
Number 1 – Zant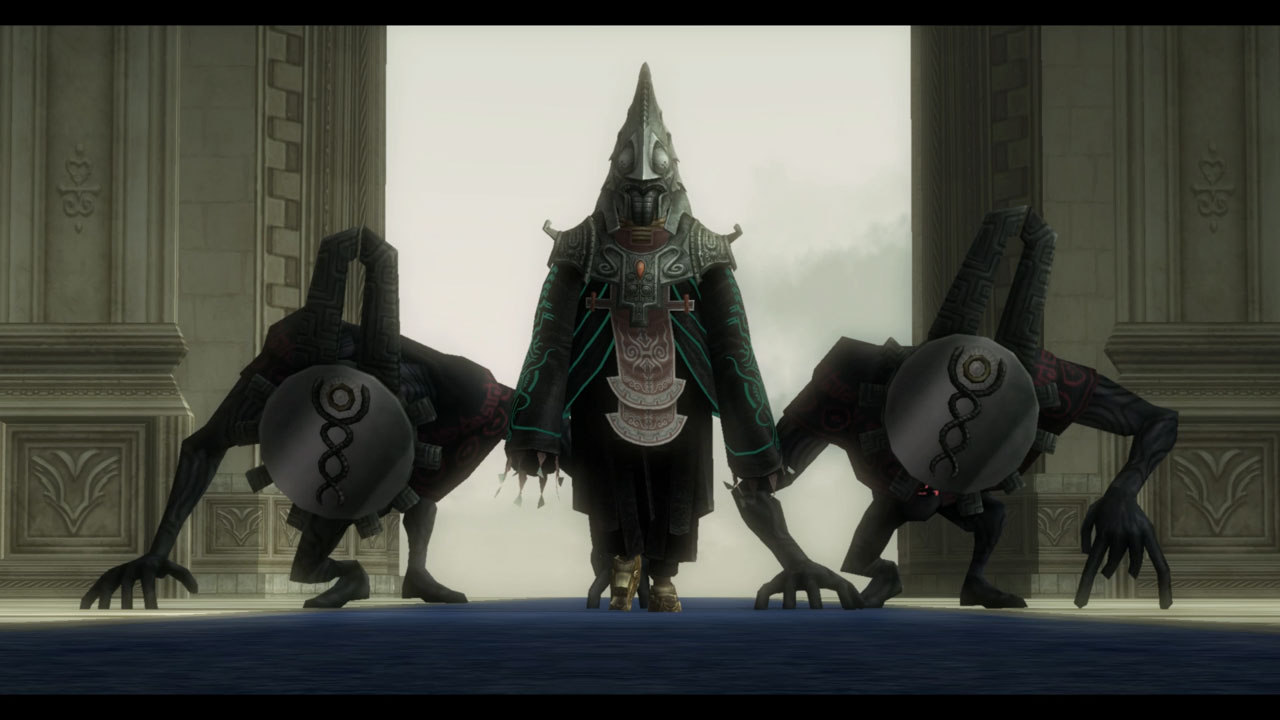 Zant is the primary antagonist of Legend of Zelda: Twilight Princess. He is a Twili, self proclaimed King of Twilight and King of Shadows. He is an evil, ambitious and insane personality in his own right, as well as a loyal servant of Ganondorf.
Zant is tall and thin with a muted turquoise design. He keeps his face hidden with a helmet and his arms hidden within his clothes until the end when he breaks his mask of calm and control to reveal an interior of madness and mania. The way Zant reveals his true personality in a wonderfully creative boss fight at the end left an impact on many players and earned him the position of a fan favorite.
Zant is a Twili, a race sealed away into a Twilight Realm. With the help of a "light dweller", Ganondorf, he takes over the throne from the current Twili ruler Midna and attempts to take over the light realm of Hyrule. He is incredibly ambitious, ruthless and evil in his pursuit of these goals. This story is unique in that it involves a new race, realm and angle in which Ganon is drying to achieve domination.
On his own, Zant likely wouldn't even be part of the story. However as soon as he receives some of Ganon's strength, he is able to forcefully take the throne of his own realm and extend his reach to another reality. Fighting Zant is difficult as it should be but ultimately he is nothing without Ganon, who is the final boss of the game.
Many people report this to be their most favorite and most memorable Zelda boss fight, due to Zant's larger than life personality, great soundtrack and many forms he takes in many different locations! He challenges you to use your complete arsenal to defeat him but his attacks are easy to read, making for a very fun fight.
Number 2 – Majora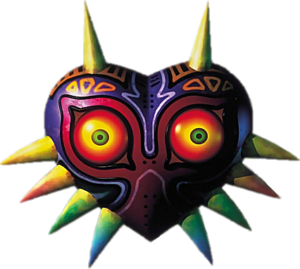 Majora is an evil being that inhabits Majora's Mask. Majora's Mask is a cursed item that is said to have been used by an ancient tribe in its hexing rituals. The wicked mask gives the one who wears it wicked power, and the evil being gradually takes over the user's mind. In the game, Majora attempts to destroy the world by crashing the moon into the earth.
Majora's Mask looks incredibly sinister with its huge red, staring eyes and lack of mouth. This reflects the voiceless evil that emanates from the item. We may never truly understand what, if any, intelligence is behind it but that's part of what makes Majora's Mask truly scary.
It's said that the ancient tribe who used the mask eventually locked it away to prevent its misuse. The tribe recognized that its evil was too dangerous to contain. The mask never speaks itself, and the being with in it corrupts the minds who wear it to work through them instead. Majora's background is shrouded in mystery, but this makes the mask more interesting and scary for the player.
Majora is an incredibly powerful boss as it is able to corrupt minds and pull the moon to crash into the earth. If Link didn't have the Ocarina of Time to manipulate time, then Majora would have destroyed the world in three days.
Majora is overwhelmingly powerful when you first face it, however by reversing time you can give yourself more opportunity to prepare and come back stronger. Even when fully prepared, the mask poses a satisfying challenge as you take on its three forms, each more intimidating and freaky than the last. Having the opportunity to repeatedly face the mask and fail before preparing enough to succeed allows the player to truly appreciate and respect the might of this impressive opponent.
Number 3 – Ghirahim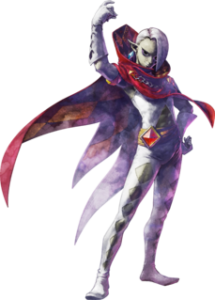 Ghirahim is the primary antagonist throughout most of Skyward Sword, except at the very end when he manages to resurrect his master, Demise. Ghirahim has lots of personality. He prefers to be called "Demon Lord Ghirahim". His personality makes him to be a very fun and memorable villain, despite being in only one game.
Ghirahim has three forms which he uses throughout the game as he reveals more power in each form. He starts the game with an androgynous, stylish and sinister look. However, Ghirahim ultimately loses his humanity, and he looks entirely demonic with a black and white design. His appearance throughout the game well-suits his narcissistic and vain personality as well as his slightly suggestive sadism.
Ghirahim's story is well-utilized in The Legend of Zelda: Skyward Sword as his role in the world becomes increasingly clear throughout the story. He is in charge of many monsters in the land below, reflecting his status as a Demon Lord. The root of his power was revealed at the end of his arc. The game revealed he is the sword spirit of the demon king Demise, reflecting how Fi is the spirit of the Goddess sword.
Ghirahim poses a significant threat to Link throughout The Legend of Zelda: Skyward Sword, who is arguably the most powerful Link in the franchise. This Link possesses a master sword, lots of training, and a completed Triforce. Ghirahim has many abilities and through his persistence and cunning, he does manage to achieve his goal of reviving his master. However, he is always defeated by Link across all the games in the franchise, his power is arguably less than many other Villains who can manipulate reality, bend time and cross dimensions.
Ghirahim's boss fights are varied and entertaining. He poses more of a challenge than the final boss of the The Legend of Zelda: Skyward Sword Demise, even though Demise is canonically more powerful.
Number 4 – Shadow Link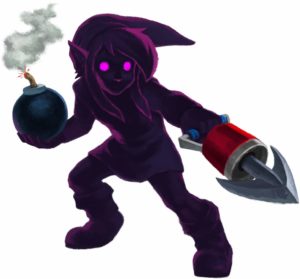 Shadow Link is an iconic villain in the Legend of Zelda franchise, appearing in many of the games. He is Link's equal and opposite, often thought to be his dark side. Sometimes there are several Shadow Links to fight at once. Dark Link is extremely similar to Dark Link but he was created by the Dark Mirror in Four Swords Adventures. He is an adversary for Link that equal this power and abilities, thus posing a unique challenge.
Shadow Link definitely has a well-known and respected design which many people love. Often it's interesting to see a dark or evil version of our typical good-guy; it can spark imaginations and satisfy the hidden edge-lord in everyone. Dark Link is almost never a final boss but he is a great intermediary challenge.
Very little is known about the story of Dark Link. He's mysterious and never talks, leaving everything up to the imagination of the player. Often seen as a reflection, you could conclude that Shadow Links have no mind or identity of their own.
Shadow Link has exactly the power and abilities that Link has, making for a well-matched battle that can prove a challenge to the Hero of Time. Sometimes Link has to face several Shadow Versions of himself, making the challenge even greater.
Shadow Link is such a frequent boss fight within the Legend of Zelda series so it's difficult to summarize all the different battles. However, because Shadow Link has all the abilities that Link has, he is very strong defensively and offensively and knowing when to attack and defend is key. The battle in Ocarina of Time is particularly well-known for being atmospheric and challenging. The Shadow Link within this battle starts very transparent and defensive but becomes more aggressive and solid-looking over time.
Number 5 – Ganon (Ganondorf)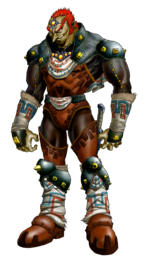 Ganon is the primary antagonist for most of the franchise of Legend of Zelda. He is the reincarnation of Demise, the demon King. He seeks conquest of all of Hyrule and is the destined foe of Link and Zelda. Ganon is the holder of the Trinity of Power, one third of the Triforce. He seeks the other parts of the Triforce so he can become as powerful as a god and wish for anything. Ganon is sometimes in a human form known as Ganondorf whereas Ganon refers to his demonic beast form.
Ganon's design is a bipedal boar. He is muscular, and he often uses a pitchfork type weapon. The design is not particularly unique or impressive, but it is well-known and generally respected within the franchise.
Ganon is a Gerudo in his human form. He is tall and muscular. Furthermore, the Gerudo race is all female except for a male, who is born every thousand years and gets to be king as a result.
Ganon (Ganondorf) is the reincarnation of Demise, evil and with the intent to conquer Hyrule. He is the owner of Triforce of Power. He uses minions to resurrect him or free him from the Dark World. Ganon used the wizard Agahnim and Zant to free him from imprisonment in various games.
Ganon is very powerful as he is constantly reincarnated after defeat and frequently poses a threat to the entirety of Hyrule. Having the Trinity of Power makes him exactly that; powerful.
Ganon was traditionally very difficult to fight, especially in the early Zelda games. This allows the player to truly feel the evil threat that has driven their story to its conclusion. It's common to have to reflect projectiles back at him and time your attacks. Many have enjoyed this playstyle since the beginning, factoring into the success of the franchise as a whole.
Number 6 – Calamity Ganon
Calamity Ganon is the primary antagonist of The Legend of Zelda: Breath of the Wild. It is a huge and visually imposing force of evil that conquered Hyrule Castle. Calamity Ganon was a major threat to the future of Hyrule.
The design of Calamity Canon is far scarier and more imaginative than most previous iterations of Ganon and Ganondorf. Being neither a mortal or a demon, Calamity Ganon is formless, pervasive, corrupting and incredibly huge. The black and red design of its pre-battle form is ominous and unfathomable, whereas the red and orange form in your final confrontation is insectile, unpleasant to the eye, intimidating with many weapons and creepy ways of moving around.
Calamity Ganon is the disembodied malice and evil that forms the traditional Ganon. It managed to defeat a Link with the Master Sword, the Guardians, Hyrule's army, and Zelda. Calamity Ganon forced an wounded Link to be put into stasis while he healed and wrecking havoc even while Zelda used all her power to minimise the damage. It's a different concept and a refreshing victory for the bad guys that sets up for a different narrative in Breath of the Wild.
Incredibly powerful, Calamity Ganon is one of the few antagonists in the series that actually manages to win a battle against Link. The powerful villain easily conquered Hyrule. In addition, Calamity Ganon killed the Guardians and many Hylian soldiers.
Well thought out and inventive, the boss fight against Calamity Ganon allows you to use all that you have learned and acquired throughout the game to take it down, even though it's technically possible to do without. It's suitably challenging, engaging and fun.
Number 7 – Demise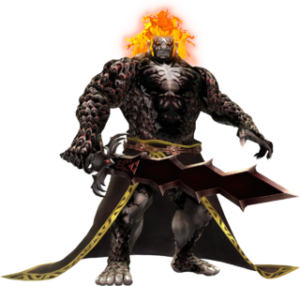 Demise only appears in one game – Skyward Sword – and only at the very end of it. However, he has a huge and lasting impact on the storyline.
Demise begins as The Imprisoned, a nightmarish beast with more limbs each time it breaks free of its seal. It might not look particularly scary out of context but the creators of Skyward sword did a great job of showing its huge mouth when it breaks free to scare first-time players and create a sense of fear and doom. Demise in his final form is not particularly unique. A beefy, scaly man with red eyes and flaming red hair. However, he looks powerful, which he is.
Demise is the original demon king and god of all evil in the The Legend of Zelda series. It is upon his defeat that he curses Link and Zelda to be forever locked in a cycle of reincarnation with him, to fight him again and again until the end of time. All future forms of Ganon and Ganondorf are reincarnations of Demise and in this way he can never truly be defeated.
Probably the most powerful villain of them all. He is the first demon king and the source of all other iterations of Ganon and Ganondorf. He is a leader of monsters and is only able to be defeated by a goddess or a chosen hero with a fully-assembled triforce.
For such an incredibly powerful villain, Demise's fight in-game is quite underwhelming. Once you know the pattern of his moves and count to counter, he can be quickly defeated. His sword and servant, Ghirahim, poses much more of a challenge than him and takes many more fights to be defeated.
Number 8 – Vaati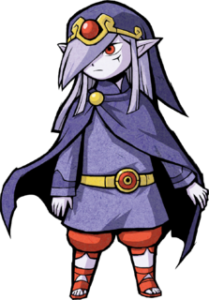 Vaati is the third most frequently recurring antagonist in this series after Ganon and Shadow Link. He began as a member of the Minish race who became "fascinated by the evil that could come from the heart of man". Ultimately Vaati became a demon, taking on a range of other forms along the way.
Vaati is shown as a Minish, a human, a demonic sorcerer, a wind mage, and a demon in The Minish Cap alone. After, he returns in other games as a demon. His design is largely purple and gold. At first he seems small and harmless but each form becomes progressively more intimidating as he pursues ever more power. Being attractive as a humanoid and imposing as a demon, many enjoy the design of Vaati.
Vaati's story is satisfying in its villainous simplicity: an apprentice fascinated by darkness who turns on his master and transforms himself into ever stronger forms in pursuit of power and domination. Although not exactly unique, the idea of a corrupted trainee seeking power is a great backstory for a villain, especially when it's up to the audience to decide if the character is just misled or entirely evil.
At first, Vaati only comes back more powerful whenever he is defeated, eventually becoming an extremely dangerous demon. However, even when in his sorcerer and mage forms, he is able to impersonate the king, kidnap Zelda and sap her power, knock out an unprepared Link and much more!
Vaati was a difficult final boss in The Minish Cap and Four Swords, reflecting his strength in the story. He changes forms mid-fight and poses a real challenge to players.
Number 9 – Yuga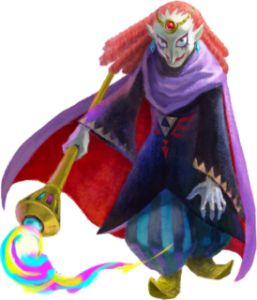 Yuga is one of two primary antagonists in The Legend of Zelda: A Link Between Worlds. He is from a parallel world to Hyrule called Lorule. Yuga has the magical ability to transform himself and others into two-dimensional pictures.
Yuga's design is colorful and fun. He looks evil but perhaps not particularly intimidating or scary. Yuga's appearance isn't what stands or gets him on this list, but it ticks all the boxes it needs to to convey who he is.
Yuga serves Princess Hilda in the parallel universe of Lorule, which is in decline after they destroyed their Triforce. Hilda and Yuga plan to steal Hyrule's relic, dooming Hyrule but saving Lorule. As if this wasn't villainous enough, Yuga betrayed Hilda and resurrected Ganon to merge with him. Yuga wanted to use Ganon's power to take over the universe. This is a unique storyline with parallel worlds and the idea of merging with an existing villain to obtain power.
Yuga has the unique power of turning himself and others into 2D drawings as well as being cunning and strong. He has immense power to be able to control Ganon once released, taming the power of the other antagonist to his will.
Players have to fight in 2D and 3D space to defeat Yuga, making for a unique and entertaining experience. His difficulty is fairly standard for a Zelda game, meaning if you learn the required tactics you won't have too much trouble. Overall, he's enjoyable to play against.
Number 10 – Veran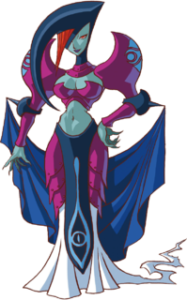 Veran is a demon fairy and Sorceress of Shadows. She able to possess anybody and summons dark Links to fight for her. She is dedicated to bringing sorrow to the hearts of all in Hyrule. Veran is the main antagonist in The Legend of Zelda: Oracle of Ages.
Veran is a beautiful woman with teal skin and a slightly armored dress. Being a fairy, she also has a demonic form of a fairy with wings. She also has many other forms including a turtle, spider, and bee. Veran is a unique villain for a fairy because fairies normally assist Link . Her design is definitely appealing and reflects her cruel, vain, and ambitious personality.
Veran is originally brought out of the Dark Realm by Ganon to serve him for many years. When Ganon is defeated she goes to light the Flame of Sorrow. Later she uses her cunning and abilities to trick Link into helping her possess Impa. As Impa she is able to go into the past to change history to her liking. Her high intelligence in fooling Link and turning around a previous defeat shows her to be a worthy Villain for a great story.
Veran has the ability to possess anyone, who she wishes. She is able to use the ability extremely to fulfill her goal to resurrect Ganon. She possessed Impa and Nayru.
Link battles Veran in multiple boss battles. She has interesting battles against Link. Her true form as a fairy summons four Dark Links. Veran has three additional forms as a beetle, bee, and spider,
The Final Word:
Overall, the land of Hyrule from The Legend of Zelda has constant threats from powerful villains. Many villains from the series are popular characters among fans. Ganondorf, Ghirahim, Zant have appeared in many games in the main series and spin-offs.
This list of villains is my opinion on the best villains from The Legend of Zelda. Zant ranks number one on my list. Please share your opinion on the best villains from the series.