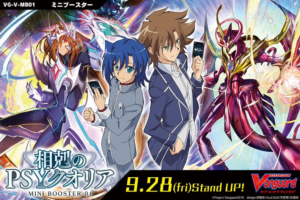 Bushiroad has just announced the newest booster set, Rivalry of PsyQualia. Rivalry of PsyQualia is the first in a new series of booster sets labeled as mini booster sets. Royal Paladins and Kagero are the featured clans in this set. Both clans will be getting the first set of updates among the clans. Rivalry of PSYQualia includes 28 reprints and 8 new cards for a total of 36 cards in the set.
Mini booster boxes include 32 booster packs with two cards per pack and 16 gift markers. One card in each booster pack will be a rare or higher rarity card. The Gift Markers will feature scenes from the animation.
The box's art features two of eight new cards. New versions of Exculpate the Blaster and Nouvelle Vague are the first new cards revealed for the set. They will most likely be the VR cards for the set. These cards are Aichi's and Kai's ace cards in the manga, and will appear in the animation in the coming months.
Rivalry of PSYQualia is set to be released on September 28th, 2018 in Japan. The release date for the English edition has not been announced yet, and I will keep everyone updated.