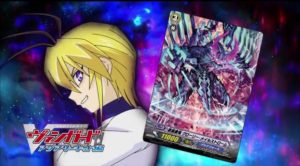 Let's take a look at season two's main antagonist Leon Soryu. Leon Soryu is the proud leader of the Soryu people. Nothing will stand in his way to reclaim his family's past glory. He is one of the most aggressive card fighters. His clan the Aqua Force is known for its aggressive assaults with 3 or more attacks per turn. Leon Soryu has a respectable 7-2 record.
Leon Soryu makes his debut in Episode 83 The Legendary Fighter. He challenges Daigo to an intense card fight. Leon defeats Daigo by using Trial Deck 7: Descendants of the Marine Emperor. It is impressive to use a basic trial deck without any perfect guards, and win the match against a completed deck. Leon shows that he has true skill. Leon dominated Daigo from start to finish. His fierce tactics overwhelmed Daigo's defenses.
Furthermore, Leon has excellent deck building skills. All of his units nicely work together in perfect harmony. Near the end of season 2, Blue Storm Supreme Dragon, Glory Maelstrom becomes Leon's ace card. He takes advantage of his opponent's inability to guard with grade 1 and grade 2 units against Glory Maelstorm's attack.
Every turn in the late game against Leon could be your last. Opponents struggle against Leon in the late game when Leon's field is full. Leon unleashes the full power of the Aqua Force by at least attacking 4 times during a turn and using all of his units' skills that activate during particular turns.
However, a great Cardfight!! Vanguard player is able to play with multiple decks. Aichi, Kai, Misaki and Ren have been very successful with multiple clans. We have yet to see Leon play with a different clan. It's very unlikely due to his close bond with the Aqua Force. This is very disappointing because Leon is considered to be one of the strongest fighters in the anime.
In conclusion, Leon Soryu has truly mastered his people's clan the Aqua Force. He has proven himself to be a strong card fighter. Leon has a very impressive debut by using a beginner's trial deck to defeat the legendary Daigo! Most importantly, he is a great deck builder who to use his units together. However, I rank Kai, Misaki, and Ren above Leon because they have been successful with multiple clans.