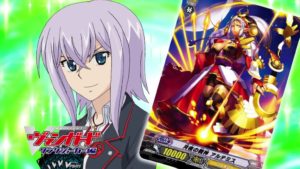 Misaki Tokura is a part of Japan's national championship team Team Q4 . Misaki is famous for playing Oracle Think Thank and Genesis. Misaki has three essential skills to being a good card fighter knowledge, memory, and skill. She has an overall record of 29-9. She wins 76% of her matches. Wow!


Misaki's memory is her most valuable skill. She can remember every card she and her opponent draw,
damage/trigger check, discard, and return to the deck. This is a very important skill for card fighter. In fact this is a required skill. It is a major advantage for game. Misaki knows the probability in drawing her triggers. In episodes 61 and 62 Misaki defeated Asaka by manipulating her deck and knowing the 16 reminding cards in her deck. She pulled back to back critical triggers to knock Asaka's lights out.
In addition, Misaki learned how to play the game by working at Card Capital. She had to learn how to play to help customers. You need to know what you're selling! She has a basic idea on how clans work. It can allow her to stay one step ahead of her opponent. She will have a general idea about her opponent's strategy. This is an indication that she can master any clan she wishes to play.
Furthermore, good players have skill. Misaki knows her decks' strengths and weaknesses. She is a very consistent player. Consistency is the key to winning games. Her skills continued to development throughout the series. She mastered deck manipulation plays in her Oracle Think Tank decks. She knows when to make the right plays at the right times.
Finally, Misaki is one of the few characters who have defeated Ren. Many characters have tried and fail to defeat Ren such as Kai(failed on camera), Asaka, and Leon. This win and her record place her in the decision as one of the best card fighters in the anime. Ren is widely considered the man to beat because he is the two time national champion in Japan.
In conclusion, Misaki Tokura is one of the best players in the game. She may be slightly underrated. Her record of 29-9 puts her into the decision of being a top 5 player. She processes the three key abilities to be a great card fighter; knowledge, memory, and skill. They allow her to stay one step ahead of her opponent. Such an advantage determines the game's outcome.